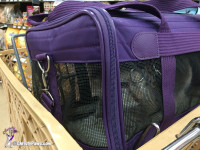 As you may know, mom will be attending her second BlogPaws conference in June. Last year, even though she had planned to take me, she ended up going by herself. My harness training just didn't go as planned!
For this year's conference, she really wants me to go with her so she had planned to work diligently on my harness training and getting me out in public. So far, the weather has put a damper on that. It has been raining almost steadily since Christmas. Mom says rain won't make me melt but she wants my trips out to be pleasant.
On Monday, mom got out the treats and I ran through my tricks a couple of times, so far sit, high five and up. Then the harness went on. No problem. We do this often.
I followed mom around for a while … Continue reading →