Can you believe it has been just over a year since I last posted here on my blog? A lot has happened during those 12 months and I hope you have seen some of my updates on social media about our move from California to Texas. In case you are new here, don't follow me on social media or missed my posts there, here's a recap.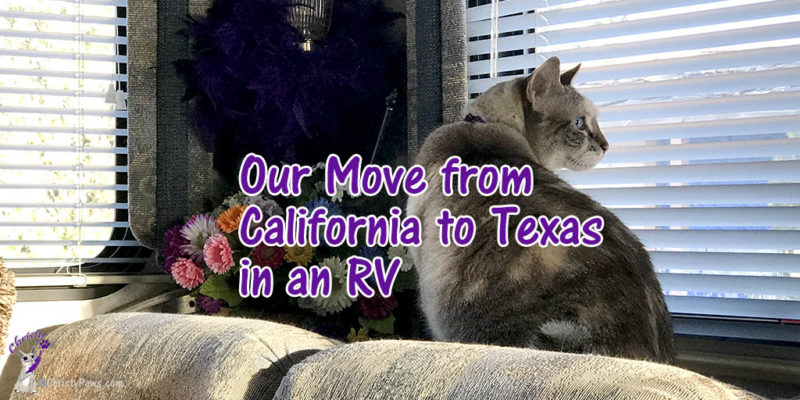 Travel Prep for our Move from California to Texas
Last year, I left off telling you about how we were getting ready to take off on an adventure in a travel trailer. Mom was taking her time letting us get used to it and Echo hadn't even been out in it yet. Well, mom's apprehension about how scared he would be was for naught. He took to it right away.
Finally on the Road!
There was so much for mom to do getting ready for our move from California to Texas that we were later getting on the road than she had planned. We finally left Pine Grove on October 12th.
We loved being in the trailer and spending time with mom, but we really didn't like having to get in our carriers on travel days.
We traveled to a lot of places and sometimes it was warm and sunny so the doors and windows could be open. We loved sniffing the fresh air and watching the birds or people walking their dogs.
In some places it was quite chilly so we were really glad mom had heated beds for us.
When we got to Texas, it started raining off and on. In fact, we stayed a few extra days in one spot to wait out a storm.
I loved getting out to explore. I didn't get out a whole lot because many places mom went weren't pet friendly or they were so busy she was worried I'd be too scared. When I did get to go, I felt pretty secure in my stroller.
Our move from California to Texas was finally complete when we arrived at our destination in southern Texas the day before Thanksgiving. That was mom's target date since she told her dad she would spend that day with him. Since then, it has been pretty much a normal kitty life — lots of just eating and sleeping!
We did have one exciting thing to report from here when we arrived. We have a catio! Mom keeps telling us it is just a screened in porch but we make the most of it. We watch the birds and Echo even caught a lizard. Mom wasn't too happy about that. Especially since he brought it in the house!
A few weeks ago, we had a huge thunderstorm with lots and lots of rain. It was all pretty scary with so much thunder and lightening. We woke up the next morning surrounded by water.
I think that pretty much brings you up to date on our move from California to Texas. If you are interested in reading more about the RV trip, check out the post,  Epic 40-day California To Texas RV Itinerary, on mom's blog. You can also see more photos on my Facebook and Instagram profiles.
What's in Store for Us?
Mom thought she would do more traveling when we got here — at least some short trips — but that never happened. The weather is partly to blame for that, but mostly I think she used that as an excuse to stay and spend time with her dad. She has told us so many times how glad she is she made that decision because he passed away earlier this month. I didn't like seeing her feel so sad.
Now that her dad is gone, mom is making plans to head out on the road in October. Both the trailer and car need some work and then it is just cleaning and stocking the trailer. I hope to be able to update my blog more often than once a year but, just in case, be sure to follow me on social media!
Hope to update you again soon.
Christy Paws
Pin it and Save for Later
[su_row][su_column size="1/2″ center="no" class=""]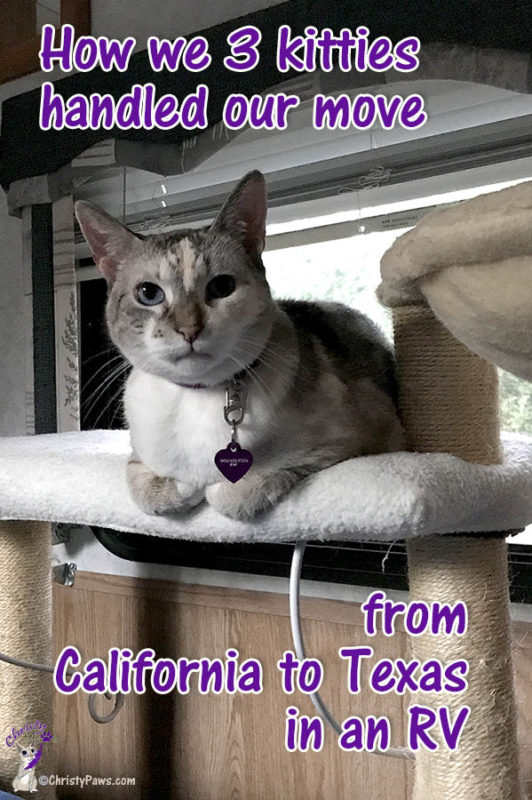 [/su_column] [su_column size="1/2″ center="no" class=""]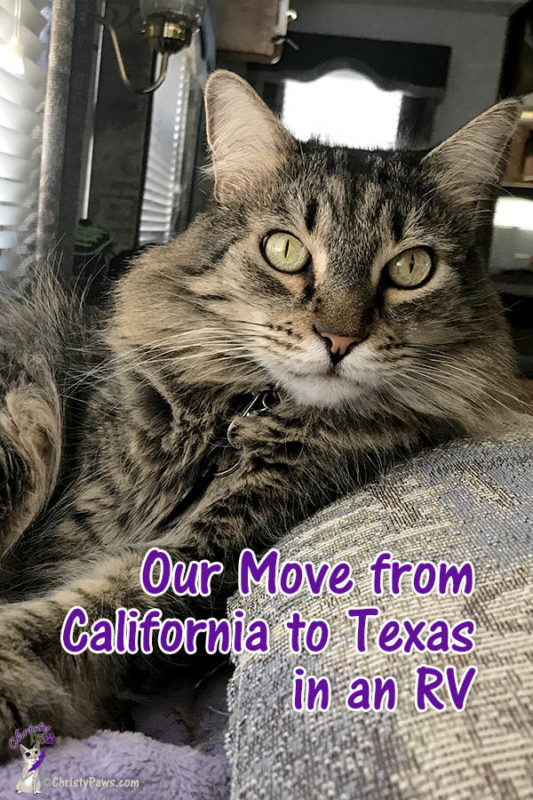 [/su_column][/su_row]