When we decided I was not going to go to BlogPaws, mom was sad because so many other kitties would be there and she wanted me to be with her. But I was very slow to take to the harness and mom wasn't very consistent with my training. I went on my first walk in the yard, actually off the patio, the end of March. Here's my video!
On my second walk in the yard, I had a really bad experience with Dieter, the dog next door who lives with mom's friend, Kelly. I was out walking around my yard when Dieter came outside. He looked curious and we walked over near the fence. Then the most horrible thing happened. He started screeching and screaming so loud that it nearly scared me to death! I pulled and pulled on the leash. I tried to get away and Dieter started lunging at the fence, all the while still screaming. I leaped into the air and did a couple of back flips, coming down hard. Mom was kneeling down and was trying to grab a hold of me but I was having no part of it. Finally, I squirmed out of my harness and took off. Mom hollered, noooooooo! But, I'm a pretty smart kitty and I ran right to the back door to be let in. The whole thing took only seconds but it seemed like forever.
Needless to say, mom started thinking twice about BlogPaws. Would I get frightened and squirm out of my harness? (By the way, I don't use that one anymore!) Would I just be miserable because I was scared and stressed? So, we made the decision that I would stay home and she was sad. Then she read about flat pets on the BlogPaws website and got instructions from Barking from the Bayou. We thought this would be a great way for me to be there in spirit at least.
First thing needed was a front facing, full body photo. Well, for some reason, those are few and far between here. Mom searched and searched through photos until she found one she thought would work, because she knew if she tried to take a new one, I would most likely be less than cooperative.
Once the photo was selected, she had to decide what size to make it. The flat pet is supposed to be about actual size,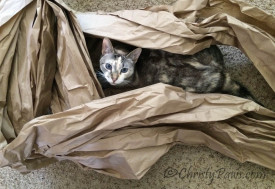 unless you have a really big pet, I guess! Mom tried to measure me! Ha! What is that thing? Why are you sticking it near me? First, I tried to lay down, then I ran off and hid in one of my paper forts! Next thing I knew, she was doing the same thing to Ocean. He's so slow, she was finished before he figured out he should run away.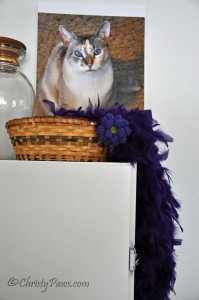 The photo was adjusted to the proper size and she ordered the lawn sign. Mom just left the lawn sign sitting around intact for a couple of weeks because she was afraid she'd mess it up when she cut it out. Well, guess what! She did. She did a good job cutting around me without cutting anything off, which is what she was worried about, but she cut around my hiney and left it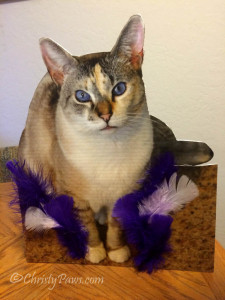 hanging out in mid-air. So she glued some of the cut off part back on and put some decorations on to hide the cuts. She said she had planned to put the feathers on somewhere anyway so that we would match, so it was OK. I'm not sure what she means by that. She says she hopes the cuts don't come apart at the conference! Finally, flat me is done and packed in its special container, ready to represent me at the conference.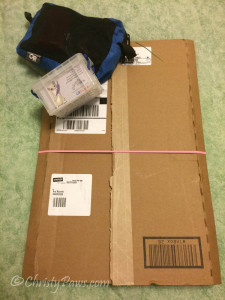 Mom says I will probably go to the conference next year. She will learn all the things we need to know so we will be really prepared. I'll get lots of practice during the year going out and visiting places so I am comfortable being around lots of people and other animals. If mom isn't too busy at the conference, she may take over the blog and do a couple of posts from there to let you all know how it is going and who she is meeting.
Just two more days and mom will be on her way — before the crack of dawn Thursday morning!
Have a great day.
Christy Paws