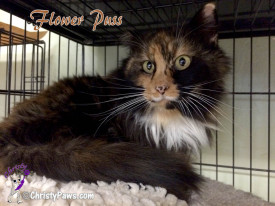 Today is the day I would normally tell you about a wonderful kitty available for adoption through A-PAL Humane Society; however, when mom went to the Feed Barn yesterday to photo the kitties, there was only one there! What pawsome news, right? Well, there is a bit of a down side to the good news. The bad news is that the one lonely kitty who was there was Flower Puss. I told you about her a couple of weeks ago and she is still looking for her purrfect forever family. So, I would really appreciate it if you would click on her story and share her around with your friends on social media. She is such a sweet girl and deserves a loving, forever, indoor home.
Since I don't have a new kitty to tell you about, I'm going to tell you what mom did to me the other night. Just about dinner time she had a pet sitting gig to go do. Now, how hard would it have been for her to feed us first? But no, she decided to feed us after. What's worse is that, as she was gathering up her things, she gathered me up too and put me in my carrier. Before I knew it, we were out the door and getting in the car. I've been on a couple more rides since my trip to Petco but I haven't been out of the car again.
I was pretty mad about the whole situation and I let mom know it, too! I sang, maybe even a little more loudly than normal, all the way there. Don't tell mom but I was quiet while she left me alone in the car. Once she was back in the car, I began singing to her again. She had been telling me during the drive that if I stopped singing she would take me for a treat but I didn't care. I wanted out and I wanted dinner.
We drove for just a little while and then bumped up into a driveway. This is what mom thought would make me stop singing.
In case you don't know it, I LOVE chicken and KFC, which I hardly ever get, is one of my favorites. Mom went through the drive-thru and got us some of that delicious smelling stuff. She parked, got in the back seat with me and let me out of the carrier. I rubbed all over her and every inch of the back of the car, then some more on her. She was trying to get the chicken out while I kept rubbing on her. She offered me some chicken but I just kept rubbing, telling her how much I love her and how much I didn't want to be in that carrier! I took one bite but even chicken couldn't deter me from trying to make my point.
Since I wasn't eating, mom put everything away and put me BACK IN THE CARRIER! Is she dumb or something? What didn't she understand? She told me she was sorry I didn't like my lovely carrier but that I had to be in one while the car is moving. I think she might finally be getting the idea, though, that it is THIS carrier I don't like. It is too darn small for a kitty of my stature, even if it is the size it has to be to fit under the seat in an airplane. If I have to be in that carrier, maybe I don't want to go on an airplane.
When we got home, mom got her a plate and put her food on it. When she sat down to eat, we all gathered around and stared. As usual, Echo, Ocean and I ended up with most of the chicken and she ate the veggies! KFC is one of the few things she feeds us while she is eating. She says it is too much chicken for her and she gets it with the intention of sharing it with us. All is forgiven, mom!
Is there a people food you get to share with your human?
Christy Paws