Flower Puss is luckier than a lot of feral cats. She and three other feral females were trapped five years ago. They were all spayed and have been living at an auto center ever since as barn cats. The person who has cared for them all these years has decided it is time for Flower Puss to have the indoor-only home she deserves. He says she is just too sweet and friendly to be an outdoor barn cat. She even comes when she is called.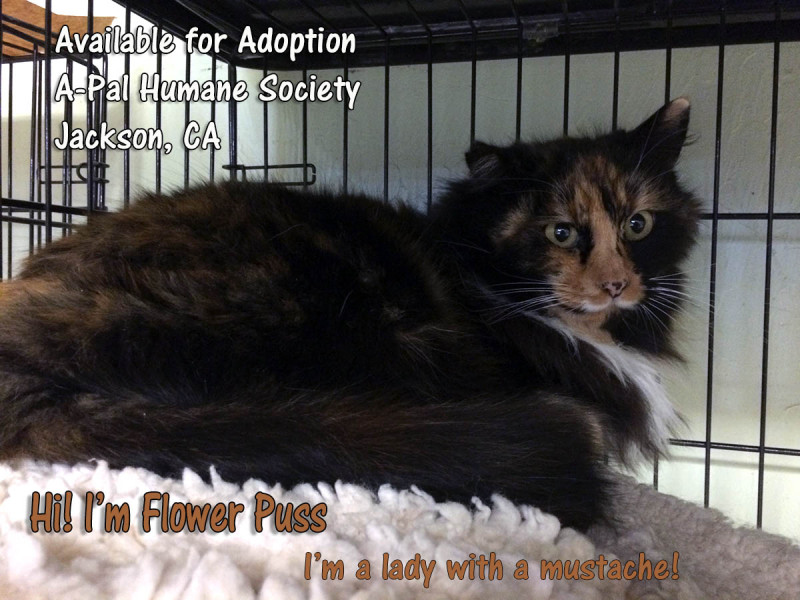 As you can see, she is a beautiful, long-haired tortie lady with elegant, white whiskers and a mustache! Mom can vouch for the fact that she is sweet and friendly because she came right to the front of the cage for scritches from her. In addition to being spayed, she has been de-wormed, flea treated and vaccinated.
Will you be the one to give this lady her forever, indoor home? As her current caretaker says, "She has been out in the dangerous world long enough."
Gorgeous, long-haired tortie available for adoption in #JacksonCA from A-Pal Humane Society. #adoptFlowerPuss
Click To Tweet
If you aren't able to adopt Flower Puss, please share. You never know who might see her and just know she is right for them.
Thank you!
Christy Paws