I first read about the 2016 Pet Blogger Challenge, hosted by GoPetFriendly.com, a few days ago on Facebook. I answered some of these questions in my Looking Back at 2015 — My Tops and Favorites post, but it never hurts to take another look at things. I missed posting this in time to join the linkup (See #10!) but thought you might like to read the answers anyway.
1. How long have you been blogging? And, for anyone who is visiting for the first time, please give a quick description of the subject of your blog.
I started blogging in August of 2014. Mom was doing more educational writing on three other blogs. She was having health issues and wanted to lighten things up a bit. I mostly blog about my daily life with my two adopted brothers. I get serious every now and then, but mostly I have fun.
2. What is the one thing that you accomplished during 2015, either on your blog or because of it, that made you most proud?
I became an advo-CAT for A-Pal Humane Society and work with them to help homeless kitties find their forever families. I hope to improve upon and expand this relationship in 2016.
3. Which of your blog posts was your favorite this year and why? (Please include a link.)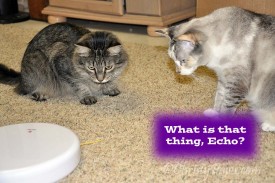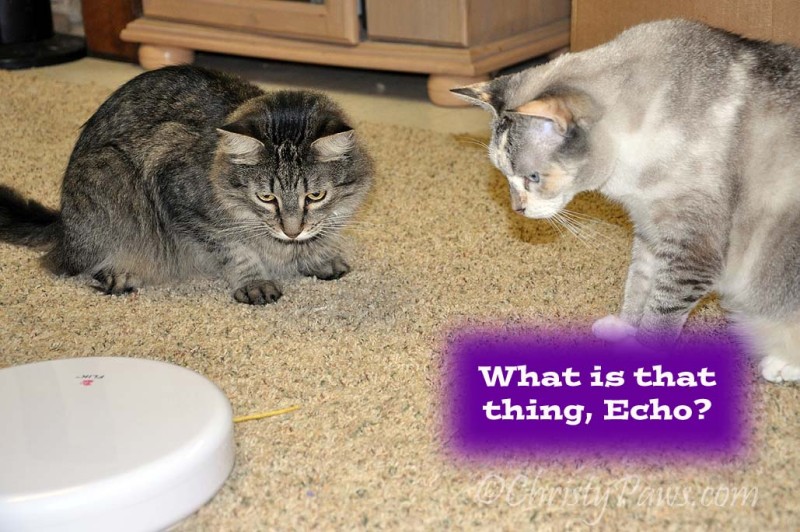 In my recap post, I couldn't pick a favorite and listed 10 that I really liked. Out of that list, I think I would pick What IS that thing? as my favorite. Once I got over my skepticism, I loved that toy and really enjoyed writing about it. It is still one of our favorite toys. I'm also proud of my educational posts and plan to do more of those this year.
4. A common theme from last year's challenge was that many of us wanted to increase the size of our audiences. Whether or not we intend to monetize our blogs, it seems we'd all like to reach more people. It feels good to know that we're connecting with others, sharing a laugh or supporting a cause, and it's motivating to see those numbers grow! What is one thing you've done in the past year that has brought more traffic to your blog?
The thing that seems to bring the most traffic on a temporary basis is giveaways. I think the single thing that brings consistent traffic to my blog is engaging more — both on my blog and in social media. I'm a little shy so, in the beginning, I read blogs and social media posts but didn't comment much. Now, I try to comment often, even if it is not every time I read.

5. Which of your blog posts got the most traffic this year? Why do you think it was so popular? (Please include a link.)
My blog post that got the most traffic, by far, was the big pet blogger giveaway I participated in during the summer. Obviously, people like the chance to win and this one had a pretty big first prize – a $400 Visa card. The post that got the second highest number of visitors was one of my favorites – Chicken, Chicken, Chicken — My Raw Food Diet. I love telling people about the benefits of raw feeding.
6. What is one blog that you read religiously – other than your own – and what makes you such a devoted reader? (Please include a link.)
I have a long list of blogs I follow and I try to read each one as often as possible. There are so many wonderful kitties out there, as well as some other cool anipals, that it would be impossible for me to pick just one. Some I admire for the great photography, some for the educational information, some for the creativity and, of course, for the humor. Each blog has something different to offer.

7. What resources do you rely on to enhance your technical, writing, photography, social media, or other skills that improve your blog?
Search engines, of course, are my best friend when it comes to researching for an educational post. I read blogs, attend webinars and hangouts, and watch tutorials on YouTube. I soak up everything I can but there just isn't as much time as I'd like to spend on this type of thing. There's always more to learn! One of our goals for this year is to improve our photography. Mom does a pretty good job but lighting and appropriate sets can be a problem in our house.
8. What is the best piece of advice you can offer other bloggers?
Have fun and don't force yourself to write because you think you need to do it. I did that for a while and I wasn't having so much fun anymore. Now I only write four days a week on Wednesday, Friday, Saturday and Sunday (yes, this is an extra post – I might do that once in a while) and try to visit my friends more.

9. What is your vision for your blog in 2016? Do you have specific goals?
Mom and I did sit down and make a bit of a plan for 2016. Of course, we want to grow our audience. After all, that's why I'm here. It's more fun to write and share when you know people are reading. I plan to go to BlogPaws in Phoenix in June. Mom and flat me went last year. They had a blast and learned so much. I want to go this year so I can meet my blogging friends and personally engage with more brands. I want to write more sponsored posts in 2016 and develop relationships with brands I especially like.
10. You have the attention of the pet blogging community – is there one blogging challenge you'd like help with, or one aspect of your blog that you'd like input on?
Consistency, which is closely tied with time management, is our biggest challenge. We hope to improve that this year by writing less often, or at least feeling like we have to write! We would love any ideas from long-time bloggers for how they find time to do everything.

Hope 2016 is your best year ever.
Christy Paws