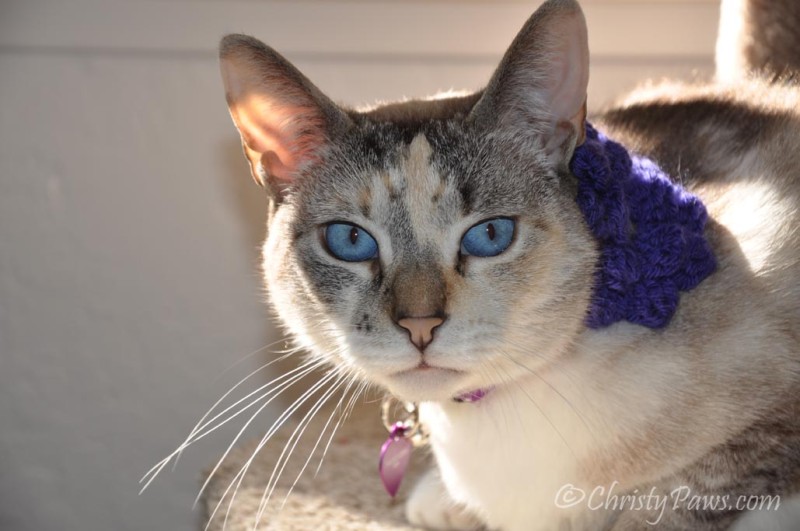 A while back, mom went to a big craft fair in Sacramento called The Harvest Festival. She went last year, too, and since we had just moved here, she got a few nice things for the house.
Well, this year, I thought maybe she'd bring something back for me. Remember when she went to her first cat show to see our pal, Summer? Do you remember what she brought back for me? A pooper scooper! Now, what kind of a gift is that for a cat? Isn't that really just another gift for her? And what did she think made it all right? It is purple. Yes, I like purple — purple feathers, purple catnip mice, purple poofy balls, even purple beds and purple collars — but a pooper scooper is just of no use to me.
So, anyway, she went to this craft fair and came back with, can you believe, a harness for me. And what did she say? "Look, Christy, a new purple harness." Oh sheesh. Now, I have been wearing my wild and sexy leopard harness a lot and am getting pretty used to it, so a harness is not really a big deal, but, again, is this not more of a gift for her than me? After all, she's the one who likes it.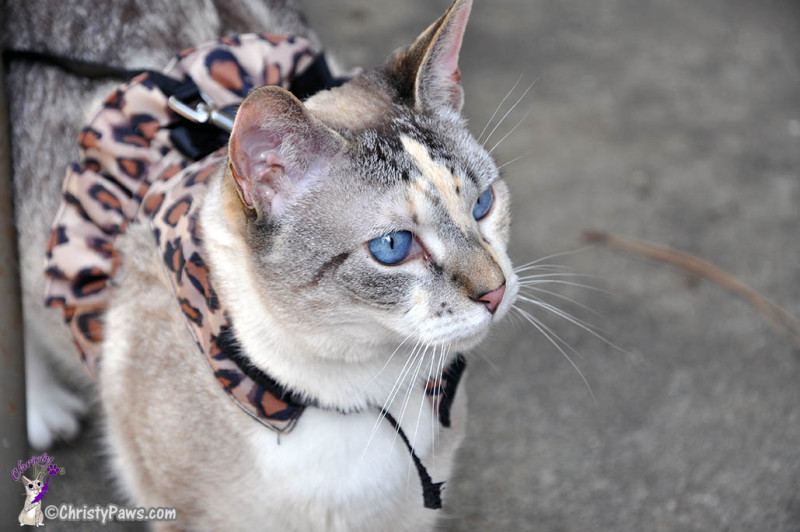 This new harness is a little different and fits much more snugly than the leopard harness I've been wearing so it took a little getting used to. Mom was assured when she bought it that I can't back out of it but I bet I can! Mom says maybe someone should invent a harness with a crupper like mules and horses wear under their tails to keep their saddle from slipping. Mom says we'll just keep taking things slow so that, hopefully, I never get scared enough to try to get out of it again. We both had the bejeebers scared out of us the time I got so freaked by the woofie that I did get loose. By the way, I did already have a purple harness but it is the one I got out of so, needless to say, I don't wear that one anymore!
Can you believe mom made me do a photo shoot with the new purple harness? It's okay, though. I'm starting to like these photo shoots because I always get lots of treats.
Mom didn't know when I insisted on purple for my color that it would be so hard to photograph. It almost always comes out looking blue rather than purple without a lot of manipulating in Photoshop. She's hoping the new lighting
she got will help with that. I'll let you know if it does.
Our pals over at The Lazy Pit Bull have started a new blog hop for the new year. It is the Pet Blogger Bloopers Roundup and will be held on the 2nd Friday of the month. I think this one is going to be a lot of fun!
Mom couldn't find a good blooper from the purple harness photo shoot, but here are a couple from our Secret Paws photo shoot. Ocean has no patience when it comes to photos. In the first photo, mom has asked us all to check out the packages. Ocean prefers to check out the camera. In the second photo, my bag of toys got opened first and Ocean couldn't wait for his bag. He had to start playing with my toys.
We are also joining our friends Rascal and Rocco for the Pet Parade blog hop.
Have a super, easy, blooper-free weekend.
Christy Paws
P.S. This post contains Amazon Affiliate links. If you click on a link and make a purchase, I'll make a small commission and can buy more treats.