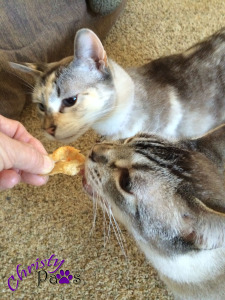 When mom first started making us raw food*, she left all the skin on the chicken. After a few months of eating this delicious concoction, we all started getting a little fluffy, as mom called it. A review of the website that the recipe came from said to remove some of the skin from the chicken if that happened.
Back then, mom was making 30+ pounds of food at a time. So by the time she removed about a third of the skin, that was a lot of skin. She hated to see it go to waste but didn't know what she could do with it. She thought about the dogs she had as pet sitting clients and wondered if she could make a dog treat out of it, like jerky. She baked it in the oven until it was dry and crispy. It made a pretty good treat but it smelled up the house and left a tray full of fat. Now she had all that fat to dispose of. So for the next couple of years, all that skin just went in the trash.
Fast forward to our new house, where she has to store the trash for a few weeks and then take it to the dump herself. Once again, the idea of all that skin, even though there is less now, sitting in the trash just didn't appeal to her and she wondered what could be done about it.
Somewhere along the line, probably while looking at recipes and trying to decide what to fix herself for dinner, she ran across the idea of schmaltz. Brilliant, she thought. It would use both the skin and the fat if she liked the results.
She was a little skeptical at first, but because she wanted to use up that skin, she decided to give it a try. She removed the skin from eight thighs and popped it in the freezer for a while to make it easier to chop up. Once chopped, it goes in a pan with some water. As the water heats up, it renders the fat from the skin. When the water evaporates, the skin starts to fry and brown in the rendered fat. In traditional schmaltz, when this starts happening you add a chopped onion, which mom did the first time she made it. The schmaltz is done when the skin and onion are brown and crispy-chewy but the oil is still clear and golden. The skin and onion can be used like croutons to top a salad or soup and mom says the oil makes killer fried potatoes, among other things.
How to Make Chicken Cat Treats from Chicken Skin
So, you know how one thing leads to another for humans. She decided not to put onion in it the second time she made it so she could try making treats for us again from the skin. (Once the fat is rendered, the connective tissue that's left is pure protein.) She forgot to cut it up that time but decided that actually was better for treats. It's easier to break it into pieces after it's cooked crispy enough than it is to cut the raw skin. If it comes out less than crispy, just cut or tear it into pieces. We won't mind either way!
Now you may not make your own cat food, but you may buy skinless chicken for yourself. Next time, consider buying chicken with the skin on, removing it yourself and making some cat treats. Your kitties will thank you for it, especially if they love bacon. It's almost as tasty and much better for us.
Mom also had a brainstorm about what to do with the oil rather than using it for cooking — but that's a story for another post.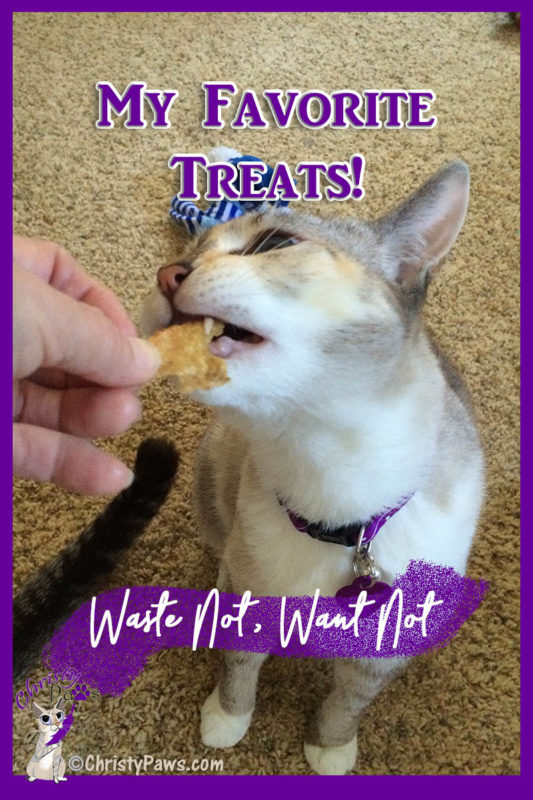 Happy nomming,
Christy Paws
* Since mom wrote this post, catinfo.org has slightly changed their recipe and instructions. Please check out catinfo.org if you are considering making raw/homemade cat food.