I never did tell you why I went to the vet during my big road trip to the BlogPaws conference in Arizona. Mom was waiting for some information from my vet on stomatitis in cats but he hasn't had time to put it together. Since today is Bring Your Cat to the Vet Day, mom thought it would be a good time to go ahead and tell you about it anyway.
Stomatitis in Cats
Mom has known for a while that I had gingivitis or probably even stomatitis. Stomatitis in cats is an inflammation of the gums and mucous membranes. It can be very painful. Mom tells me no one seems to know what causes feline stomatitis but that it may be an allergic reaction to the plaque on our teeth. All vets and researchers know is that it is an abnormal immune system response. They suspect that viruses play a part but no studies have proven that.

The treatment for severe cases can include frequent teeth cleaning, daily brushing (yeah, right!), antibiotics and steroids (which give no long-lasting results), and plaque-reducing water additives. This treatment is frustrating for everyone because it often does not work.
For the last couple of years I have had that telltale little red line on my gums. The red line was very narrow and would come and go. It never really bothered me. Some of the typical symptoms of stomatitis in cats are weight loss and reluctance to eat but, believe me, not much keeps me from eating.
Mom monitored my condition and it never seemed to get worse. When it would flare up a little, mom gave me l-lysine and that seemed to help. I would only let her see my front gums, though. I never let her open my mouth for a good look.
Several months before the BlogPaws conference, the red started getting worse and a few times I actually didn't feel like eating for a couple of meals. I even woke up drooling once in a while. YUCK! How unladylike!
No More Putting it Off!
One day, I yawned a really super yawn and mom was in just the right spot to see my back teeth and she freaked. She said, "That's it! No more putting it off." Well, I wondered what "it" was but she didn't tell me. She didn't even tell me I had an appointment to see the vet when we were in Southern California. I thought we were on vacation so it was quite a surprise when she took this kitty to the vet!
Now, if I wasn't happy with the first visit (I hissed at the vet when he wasn't even in the room), imagine my shock when she took me a second time on our way home from BlogPaws. And she LEFT me there! They did all kinds of poking and prodding and then I got real sleepy. When I woke up, most of my teeth were gone! I did get to keep my fangs but sometimes kitties even have to have those removed eventually. Mom told me about this treatment for stomatitis a long time ago. We had two foster kitties who had to have their teeth removed but I had no idea that is what was in store for me.
Other than the surprise of the situation, I wasn't too upset about it. I got some stuff for the pain and to keep from getting an infection. I went back to the hotel room that night and ate my dinner with no problems.
So, why did mom put my surgery off? Well, it seems humans have a thing about not wanting to have their kitties' teeth pulled out unless they absolutely have to. They think they won't be able to eat or something but kitties can get along fine without their teeth. The sooner it is done, the more likely a kitty will have a good recovery and not continue to have problems.
I even had KFC the day after my surgery!
I'm a new cat now. My mouth isn't sore and I even like for mom to scratch my jaws and chin. I haven't liked that for quite a while. So, kitties, if you hear your humans talking about stomatitis and getting your teeth extracted, don't worry, you'll be fine and happier for it.
Bring Your Cat to the Vet Day is a good day to remind your humans to take you for regular vet check ups.
Pin It and Save for Later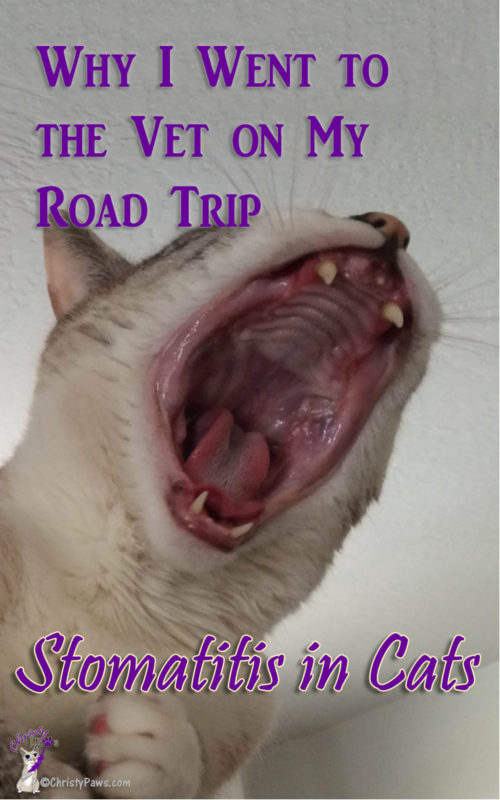 Have a healthy and happy week!
Christy Paws

Save