As you may recall, mom doesn't make the best choices when it comes to bringing gifts to us when she goes places. When she went to a big craft show in Sacramento she brought me a harness and when she went to her first cat show to see my pal Summer, she brought me a pooper scooper
. I wasn't too thrilled with these things, even if they were purple.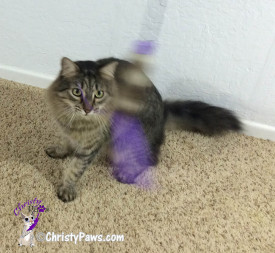 Last weekend, she went to another cat show to see Summer and this time she got it right! She brought us back the most pawsome wand toy. It is pretty simple construction but mom says it seems almost indestructible the way it is put together.
We'll see because it is getting quite a workout. You see, we didn't really make any new year's resolutions but we did all agree to help mom get more exercise. She lost a lot of weight during her illness and after her surgery in 2014, and she says she is starting to gain too much of it back. We decided she needs to play with us at least three times a day to up her activity and this wand toy is working out great.
How We Help Mom Get More Exercise
She keeps the toy in a basket by her comfy chair. When it is time to play, Ocean goes to the basket and tells her. One time, when it got left in another room, Echo even brought it to her. Her stamina is improving and she plays with us longer each time.
We entertain her while we play by showing off our individual hunting styles. Echo likes to chase it around on the floor, running, running, running. Probably why he is a lean, muscular kitty. Ocean likes to sit in one place and bat at it over his head. He can jump pretty high! I prefer to hide under the furniture for sneak attacks. I rarely run after it because I know if I do, one of my brofurs will probably chase me and I don't like that. Instead of running after it, I like to run around in circles in a small area close to the furniture where I can dive under if need be.
We are very pleased with this toy and what it is doing for mom's activity level! Do you get enough playtime?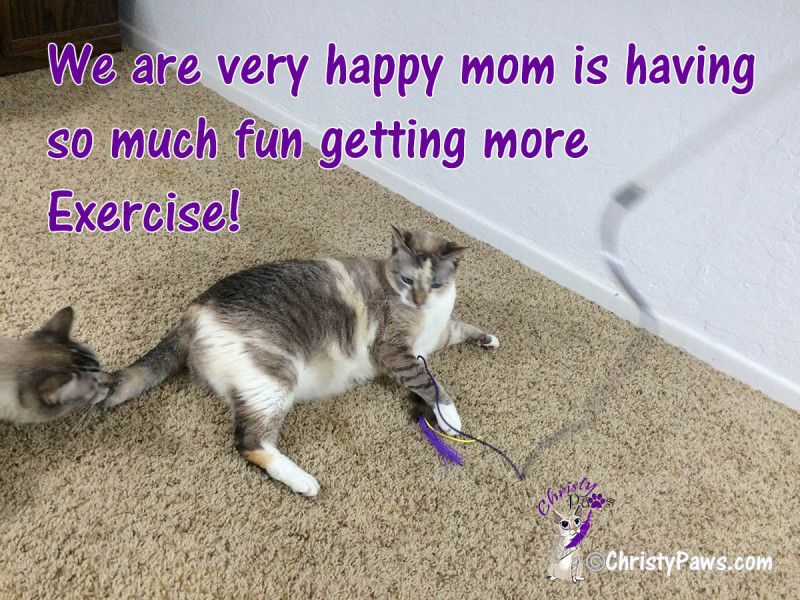 Christy Paws
I'm joining our friends Rascal and Rocco and the other hosts for the Pet Parade blog hop. Click on over to see lots of other great animal blogs.
Stories on my site may contain affiliate links. I will make a small commission if you make a purchase after clicking the link. Thanks for contributing to our treat fund!