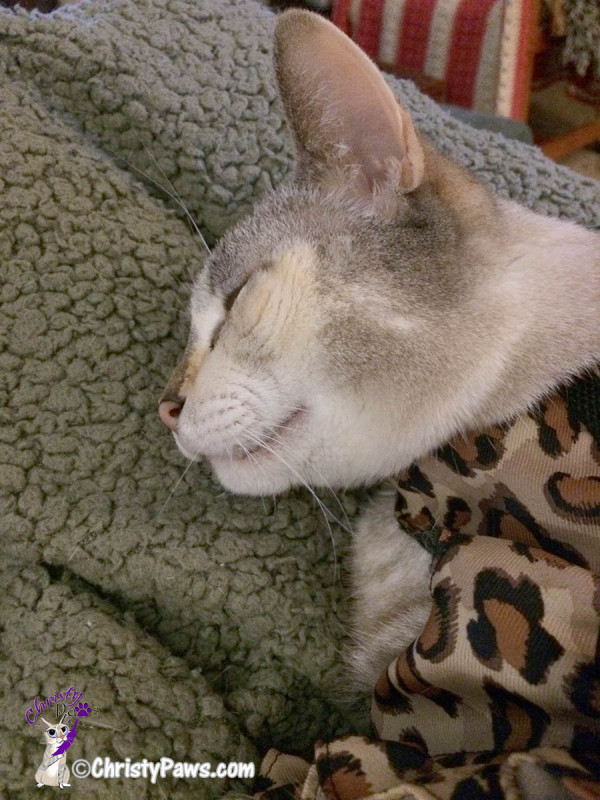 Mom has really been trying to work with me to get me ready for the BlogPaws conference in June. I've been wearing my harness a lot but what I need to work on now is getting out of the house and around people. The problem is, it hasn't stopped raining, and even snowing, in weeks. When we have one or two days without rain, mom has outdoor chores to do and then it starts raining again. Mom says we can't complain though. After four years of drought, we need all the rain and snow we can get.
A couple of weeks ago, mom finally decided to take me out on a day that was only a little rainy. She had to go out anyway so thought it would be a good time for me to go along.
In my post Wordless Wednesday: The Cat's Meow, I told you what I thought of that day. But there was more to it than a less than happy kitty going for a car ride.
When we got to the car, mom thought about putting me in the back seat and buckling me up but decided to put me in the front seat where I could see her. She thought that would make me more comfortable because this was my first car ride since we moved here more than a year ago.
Now, as you probably know, your pets should ride in the back seat in their carrier with the carrier safely buckled in. But, as I said, mom put me in the front seat and, what's worse, she didn't buckle me in. After all, we were only going to be gone a little while. What could happen?
Well, a truck in front of mom came to a sudden stop when a car in front of it turned without signaling. Mom had to hit the brakes hard and, you guessed it, my carrier went rolling off the seat. Don't worry. I wasn't hurt or even very upset, at least not more than I already was, so everything was OK.
Mom did this right after she had shared posts like Sumner's Do's and Dont's of Traveling With Your Cat. She didn't want me to tell you what a stupid thing she did (her words, not mine) but I told her it is important to remind people that accidents happen when you least expect them so you should do the right thing every time.
Mom made a couple of stops on that outing. One of them was to Petco where she got me my Pricess Leia mousies and some special treats. At least that's what she thought. They were stinky mussels and I wouldn't touch them. She thought I was just punishing her for making me go in the car but I didn't touch them at home either. Even my brofurs wouldn't eat them. She says they weren't cheap so we are going to eat them somehow. I know she is hiding them in our wet food!
Mom said she was surprised that I sang so much on the car ride since I never let out a peep on the 12-hour trip here from Southern California. She says she knows it wasn't because my brofurs were there since they are of no comfort to me EVER. So, now she's had this bright idea. She thinks that since I am so subdued when I have my purple harness on that maybe it acts kind of like a Thunder Shirt. She's going to put it on me for the next trip. I'll let you know if it helps me stay more calm.
Hope you are having a wonderful Wednesday. And in case you were wondering, yes, it is raining.
Christy Paws