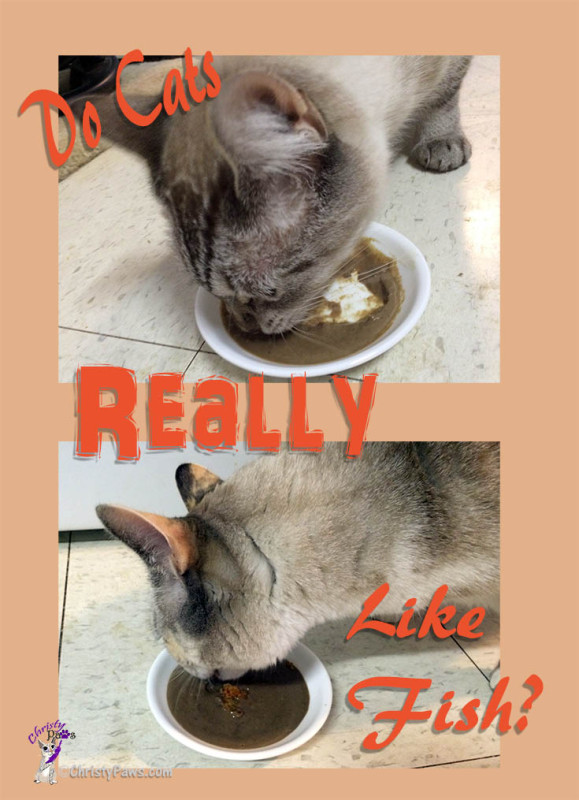 Do cats really like fish? I ask this question because it came up at our house this past week. The answer to this question in our house is, it depends.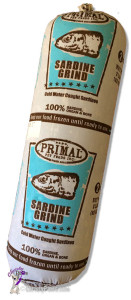 Mom got us some Primal sardine grind at our local store where she gets our raw meat. Since we love an occasional treat of tuna, she thought we would love this. Ocean dove right into it and licked his plate clean. Echo and I weren't so sure. I licked it a little and Echo (Mr. Picky) just walked away. Now mind you, this was totally different from what we are used to eating. It smelled different and had a much different texture. And you know we cats do not like change.
To get me and Echo to eat it the first day, some clever mom put "croutons" of our favorite chicken skin treat on top. That familiar smell did it for us and we gladly finished it off. The next meal, mom put it underneath our regular meat and we ate everything.
I think after a few more meals, we will all give this smelly good stuff paws up. Mom likes it because it is made from 100% human-grade ingredients. The Primal grinds are not complete and are designed for pet owners who want to tailor it to their pet's needs in their own recipes. Primal offers a variety of formulas from complete and balanced meals to the grinds which are only ground muscle meat, organ meat and bone.
Our reaction to this new food points out two things. If you feed your cats the same thing, even the same texture, all the time, it is more difficult to transition them to something new. The second thing is that word transition. If you are trying to get your cats to eat wet food or raw, don't expect them to just go cold turkey.
Why do we cats like fish?
Since our ancestors were desert dwelling cats, it is unlikely that they did a lot of fishing. Now, don't get me wrong. I probably would, given the chance. I mean, how could I resist those wiggly things? I've seen videos of fish tanks and played on mom's iPad! But seriously, since our natural food is small rodents, small birds, insects and reptiles, why do we go bonkers when you open a can of tuna? It appears that no one really knows, but I ask you, do you know why you crave things?
It seams that in the case of humans, there is some explanation. You can blame evolution on your cravings for sugar and fatty foods. Fatty foods were your hedge against starvation and sugar provided energy. Problem is, you humans no longer have to hunt for these things and, well, you know what that can mean. But for us cats, there is no evolutionary reason for us to crave, or even like, fish.
There is some interesting speculation about how we acquired our taste for fish, like that's how the Egyptians lured us in to take care of their rodent problems and that because we are opportunistic feeders, we started hanging around fishermen for a free lunch.
Is fish good for cats?
So, the question then is, is it good for us. Fortunately for us kitties, the answer is yes, but with a very serious caveat.
Fish is high in taurine. Taurine is an amino acid that regulates heart rhythm, reproduction, digestion and vision. Most mammals manufacture taurine from other amino acids but cats can't and must get a regular supply of it in their diet. Taurine is found in fish and meat, especially the heart muscle. Mom just found an icky, to her, bit of info — spiders are rich in tuarine. Maybe that's why I love hunting them so much! Fish is also a good source of omega-3 fatty acids.
The caveat here is that, as you humans know, the larger fish like salmon and tuna can have high levels of heavy metals like mercury and other toxins. Feeding your cat a diet high in fish is linked to Urinary Tract Infections (UTIs) and hyperthyroidism. Eating lots of tuna gives kitty urine a strong, unpleasant odor. Some cats are allergic to fish and in fact it is the third most common feline allergy. There are actually a lot of health indications that suggest feeding fish to your cats on a regular basis is not a good idea.
Dr. Karen Becker recommends that if you supplement your cats diet with fish that you feed sardines. Sardines don't live long enough to store toxins in their bodies, and they're a terrific source of omega-3s.
So what do you think? Do your cats like fish? How often do they eat fish?
Additional reading: