Mom was gone all day Saturday. I mean ALL day. She left right after breakfast and didn't get home until long after dark. Dinner was late and it was cold in the house — like only 65º. What kind of a temperature is that for a kitty? You would think she would want to make it up to me by bringing me a fabulous toy or scrumptious treat, but no. Nothing. Well, unless you count the new pooper scooper she brought.
I can't be too upset with her though. She went to Livermore, CA, about a two-hour drive from here, to see my friend Summer compete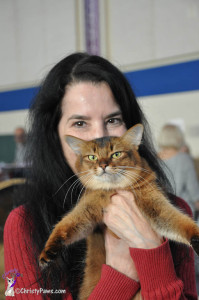 in one of her cat shows. Mom didn't get there until around 11:30 because she had to take care of some pet sitting clients before she headed to the show. When she got there, she walked around the exhibit hall to check out all the kitties and to find Summer and her human.
It was mom's first cat show and she says Summer's human was very patient with her, explaining how all the judging and points work. Later in the day, Savannah's Mom L and Spitty's human arrived to cheer Summer on, too. Apparently, Summer had a very good show and the visitors got to see her win a Best Cat out of ten excellent cats in one of her rings. The humans were all very excited for her. You can read all the details of how Summer did on her blog.
Summer at the Cat Show
Mom said all the cats around them were getting groomed all the time. Summer is lucky that she doesn't require as much as the long-haired cats like the Persians and Ragdolls.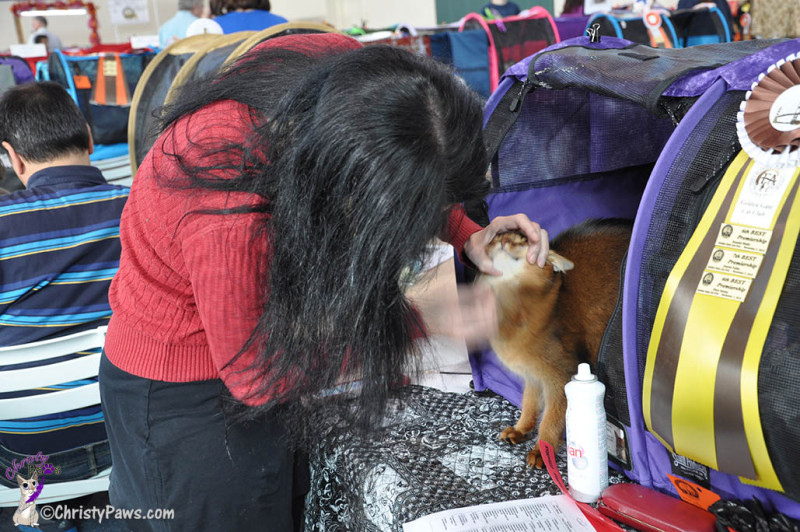 When mom got home, after we had dinner, she told us all about her day and showed us the pictures. She said besides all the gorgeous cats she saw at the show, there were people selling toys and treats and all kinds of cat accessories. Hello! Cat toys and treats? And we got a pooper scooper? What is wrong with this picture? But it's purple, you say? Hmph!
Wishing you a BEST CAT kind of day!
Christy Paws