Whew! What a wild week. I don't even know where to start so I guess I'll just start at the beginning!
Some of you probably know that mom wanted to take me to BlogPaws last year but she felt she didn't get me out enough, then I had that awful experience with the woofies next door. She was worried that I would be too afraid with all the dogs around and boy, am I glad she made that decision after what I saw the past few days.
This year, we worked at it much more diligently. I started spending lots of time out in the yard once the weather got better and I really got into that. Our yard is totally fenced and mom was always out with me so she let me out without a leash! Woohoo! I didn't even worry too much when the woofies next door came out. I explored farther and farther away from mom. She started calling me Dora the Explorer – and then came and got me and made me go back on the deck! What's up with that? Did she want me to explore and broaden my horizons or not?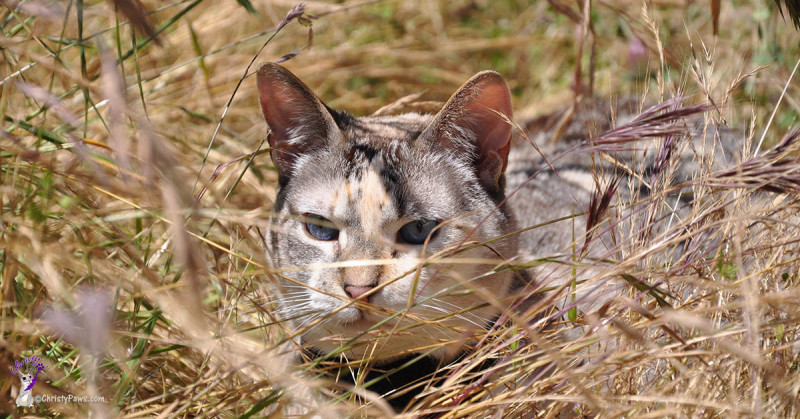 I went lots of places in the car. At stores where I was allowed, mom put me in my carrier in the shopping cart. She would open the top so I could pop my head out. At Petco, I saw dogs and they didn't bother me up in the cart. With each outing I got more confident and less scared.
When mom finally got my stroller, that was the bomb! I really loved having it open so I could stick my head out and see what was going on. Mom could tell if I was getting a little scared. She would close it up and it was like I was in my own little cave – like my paper fortresses that I love to build.
Even with all this, when it came time to leave on our trip, mom said it still wasn't enough to prepare me for the craziness to come but that it was what it was. All we could do was see what happened. She promised that if I was too scared and unhappy, I could just stay in the room. She brought flat me just in case.
So, on Monday morning, we loaded into the car and headed out on the first leg of our road trip. I sang for a while but eventually got tired of it. After six and a half of what seemed like never ending hours, we arrived in Orange County. I was ready to get out of the car and check out our temporary home but my sneaky mom took me to the vet instead! There was no mention of this to me and I did not approve! I was so annoyed, I hissed at the vet before he even came in, but mom told me everything was okay, so I got back in my carrier to wait.
Instead of the vet, this young lady came in. She seemed like such a nice young lady at first, then she started doing such rude things to me. When the vet came in, he felt me all over and looked in my mouth. He and mom talked for a while and, finally, we got to leave.
I have to tell you, by the time we got to our hotel, I was a bit frazzled. While mom brought in the luggage and unpacked, I hid under the edge of the bedspread. I've learned that beds in hotel rooms are strange. There's no UTB, at least not in the ones I was in. I tried to sleep with mom that night but every time I heard a noise outside, I was back on the floor, under the bedspread.
The next day, mom and I went downstairs to breakfast. I got to meet the really nice lady who is the manager of the La Quinta Inn where we stayed.
After breakfast, mom left me alone for a long time. She said she had to go to the groomer, I mean hairdresser. I did a lot of cat napping and caught up on some sleep. By the time she got home, I was getting much more used to the noises. I even ate dinner with mom and played some afterwards.

The next morning, we were up bright and early. Mom packed the car before 6, got her coffee and we were on the road shortly after six.
Hope you'll come back to read the next installment of my road trip to BlogPaws!
Christy Paws
Save
Save
Save
Save
Save
Save