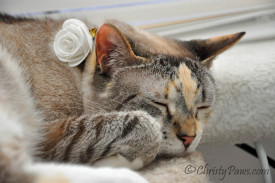 Mom and I have been trying to get this post up all week. It was originally planned for Monday but it has been a busy, crazy week. Well, busy for mom. I've been doing a lot of sleeping. The weather has been cool and dreary so purrfect for napping. Besides trying to get ready for BlogPaws, mom has had a lot of pet sitting going on this week, including three overnighters. Yes, she totally abandoned us for a couple of woofies for three nights!
To help her get prepared for the BlogPaws Conference in Nashville, mom has been reading everything she can about what to expect and what to bring. There have been lots of great posts written about these things. She's a big fan of lists so has been gleaning things from all the lists she has seen. Aimee, over at Irresistible Pets, wrote a great post about her Top Ten Blog Conference Must Haves. There are several posts with packing lists and other helpful hints. There is lots of great information for any conference, not just BlogPaws, at the links listed below.
Here are our three favorite things we learned about and would have had no clue if we hadn't read a post on it.
Flat Pet
This was mom's favorite thing that she learned about. The original plan was for me to go to BlogPaws but my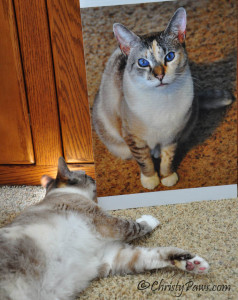 harness training went very slowly and then I had a really bad experience with a woofie. Mom was afraid I would be scared around all the dogs at BlogPaws so she sadly decided that I would probably be happier staying at home. When she read about flat pets on Barking from the Bayou, she got excited again. At least I would have some representation there. Don't tell her I told you this but she was cutting it out yesterday and kind of screwed it up. She was being so careful cutting all around my body then realized it left my hiney hanging out in thin air. She glued part of the cut off part back on and has tried to camouflage the cuts. If you see flat me at BlogPaws, don't look too close. She's hoping it doesn't fall apart! A plush pet would have been a good idea too but I'm a little unique looking. Mom knew she wouldn't be satisfied with just any stuffed kitty.
Selfie Stick
Mom first saw this on a packing list over at Barking from the Bayou but had no idea what it was. Yes, it seems we have entered a time warp since we moved to the country, but Google came to the rescue. Wow! This was pretty cool we thought. Mom almost never takes selfies — she doesn't like to be in photos — but on the rare occasion she does, it is hard for her because she has short arms. She thought this was a marvelous idea so, of course, had to order one. Even though she doesn't like to be in pictures, she knows she will want photos of her with MY blogging pals.
Business card app
Mom has been to many conferences in the past and knows how many business cards you can collect. She saw the recommendation to bring a whole punch and notebook rings to keep them on over at Irresistible Pets. What a swell idea. Mom also knows, though, that once you are home, those cards rarely if ever make it into your address book. And if they do, what a tedious job. So, with all this technology at hand, mom decided to take it a step farther. She found an app for the iPhone that captures the contact information from business cards which can then be transferred right into your iPhone contacts. In the app itself, it stores a photo of the card and you can even store a photo of the owner with it. It is pretty accurate, but if it misinterprets something, it gives you the opportunity to correct it before you put it into your contacts. And, of course, if you don't want to put it in your contacts, you can just keep it stored in the app. The app she got is Business Card Reader but there are several.
There is still a lot for me to help mom with to get her on her way, but she is more prepared for this trip early than I have ever seen her. I think she is excited to be going. Please let us know if you'll be going in the comments. Also, any great tips you have are welcome.
Maybe I'll see you all in person at the 2016 conference. I wonder where it will be.
Have a great weekend.
Christy Paws