When last I left you, in Road Trip – Part 1, it was shortly after 6 am on Wednesday and we were on the road to Chandler, Arizona, and BlogPaws 2016.
I sang mom a tune or two when we first started but then got tired and just hung out. I tried to nap but it just didn't seem to happen. So many strange noises outside and the motion of the car did NOT lull me to sleep.
Mom only made two quick stops along the way so we arrived at the Sheraton Grand at Wild Horse Pass in Chandler before noon. At first, mom thought she was going the wrong way. The hotel is down a narrow, two lane road kind of out in the middle of nowhere, or so it seemed.
Check in was a breeze and we were on our way to our room in no time. After mom unpacked, she put me in my stroller and we went back to the lobby as it was nearly time for some of our blogging friends to arrive. There was already a group gathering there including several woofies! Mom put me behind the sofa away from them but Dexter, from Fidose of Reality, came and laid down by me! He was so sweet and polite that he didn't scare me. Mom said that was a good start.
That might have been the last quiet time for the next three days! Things just got crazier and busier as people and furpals arrived. Things started to get into full swing that evening with the Pre-event Welcome sponsored by PetSmart.
Conference registration started Thursday morning where everyone picked up their swag bag. This is what was in the original bag but by the end of the conference, the bed was almost completely covered with bags and samples. Good thing there were two beds! Mom also got a swag bag at the Cat Writers' Association awards banquet. We got so many goodies – treats, toys, food, gadgets – that I have a special announcement to make at the end so keep reading!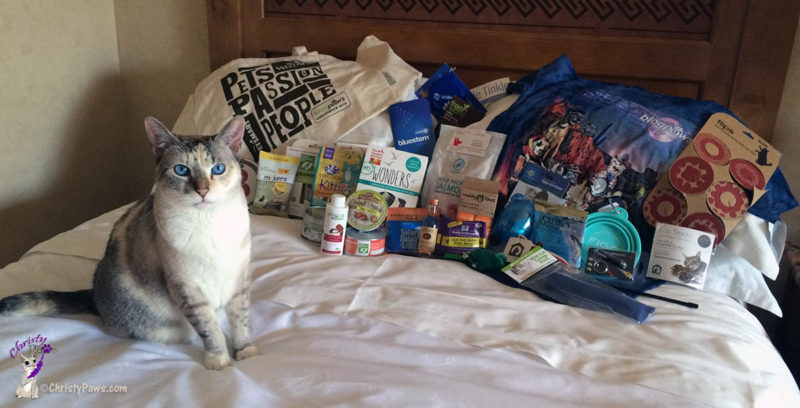 BlogPaws 2016 officially opened on Thursday evening with Yappy Hour sponsored by Purina and the Kickoff afterwards.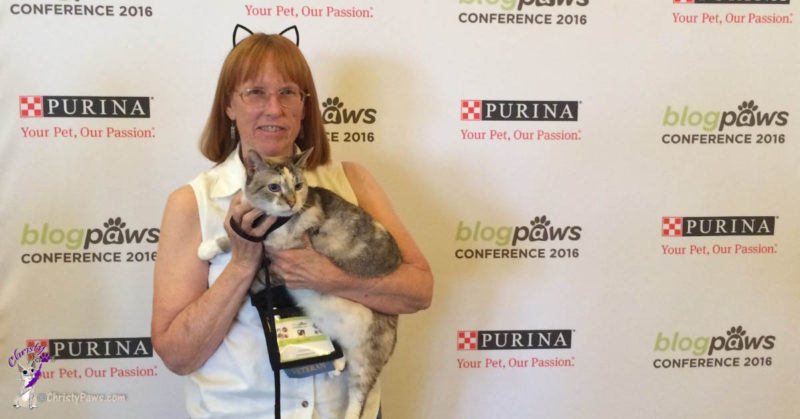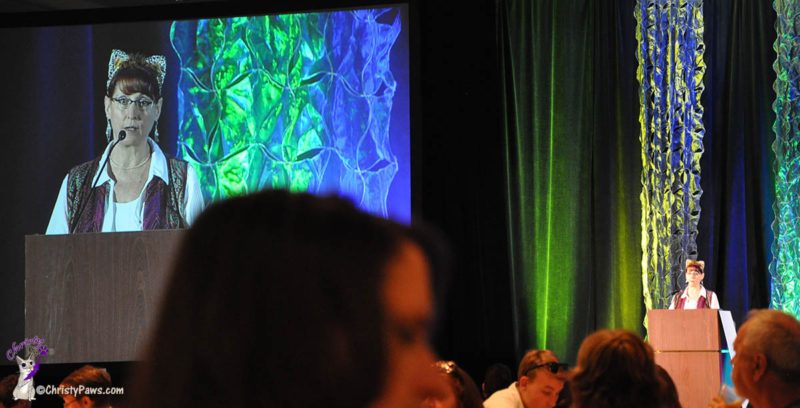 Over the three days of the conference, mom took me down periodically but brought me back to the room for breaks when it seemed like things were getting too busy and noisy. The noise was the scariest part for me but everyone said I handled it pretty well. Mom brought flat me just in case but she never left the room.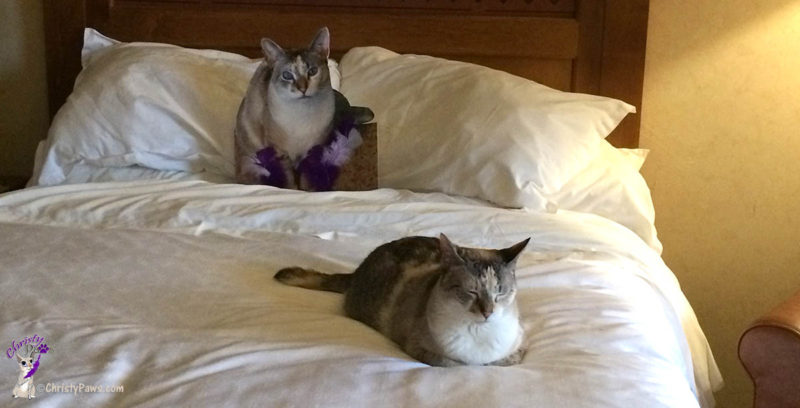 Most of the dogs were well behaved and stayed clear of my stroller so they weren't that scary. I felt pretty safe in there. The event organizers did a very smart thing this year. They had dog behaviorists on site to help with any issues.
Most of our cat blogging friends came without their kitties so I mostly only got to meet humans. Don't get me wrong. That was super but I would love to have met some of my kitty friends who couldn't come.
I did get to meet my idol, Summer, from Sparkle Cat, who mom has actually seen a couple of times at cat shows. I also met new friends Lexi Liu and Moshe Moshi from Naked and Hungry. I had never met a sphynx before! And, of course, the very fashionable Coco, the Couture Cat was there. She has the most awesome outfits! I don't think I'd like to wear them but she looks stunning in them. All of these kitties were so calm and collected. I still have a ways to go before I am that chill in public!
There were a few other kitties but there were many more dogs than cats. I also met two ferrets and mom said there was even a rat in the house!
I loved seeing all the new things for kitties in the Cat Style Lounge. And, oh my cat, there were so many people to meet in the exhibit hall.
https://youtu.be/M9b70Ik2Gms
I have a special thank you for Savage Cat Food who gave me some raw food. I hadn't had any for several days and I sure did appreciate it! I was missing my homemade raw which is too hard to travel with. Especially if your room doesn't have a refrigerator! Mom will be posting soon about what she did for my food.
Next year, BlogPaws will be in Myrtle Beach, SC. Mom says I probably won't be able to go because it is so far and the flights are too long. I have mixed feelings about that!
SPECIAL ANNOUNCEMENT: July 4th is the day I celebrate my birthday and we celebrate gotcha days for Echo and Ocean. We have so much great stuff so mom is putting together a super giveaway. She hasn't had time to go through everything yet but you can be sure it will be SUPER! Be sure to come back on Monday to enter for a chance to win.
Christy Paws