I have a funny story to tell you. It's been a secret but I guess it won't be after I tell you about it.
If you've ever met me or really looked at some of my photos, you know I'm not the most svelte kitty out there. I've never had the slim waist like my brofurs Echo and Ocean. This is evident even in this photo from the BlogPaws conference in Phoenix in 2016 when I weighed about 11 fluffy pounds.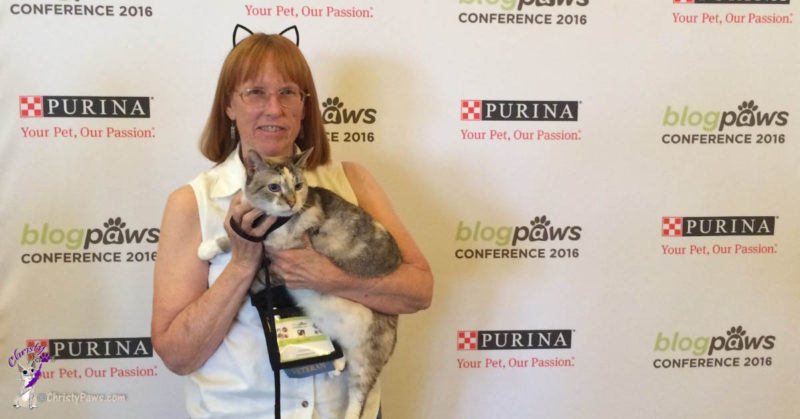 I'm not ashamed to admit that I'm a napping kind of kitty. If I were a human, I guess you'd call me a couch potato.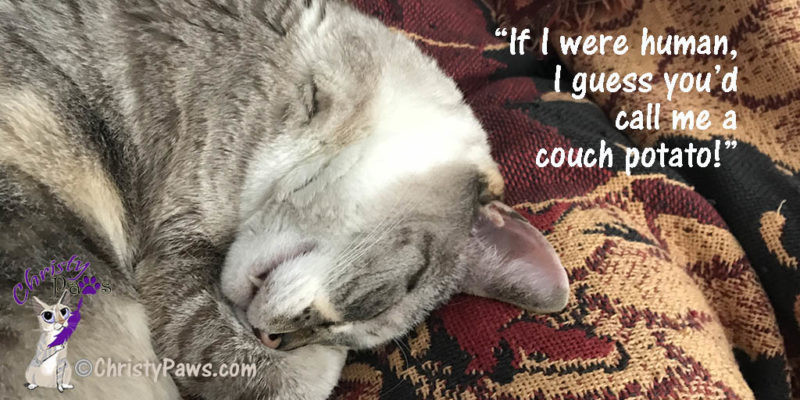 Echo and Ocean chase each other around some but I don't approve of that kind of behavior. I prefer to play with the wand toy with mom and I can tolerate playing with the boys when we play with our new tower of tracks. But mostly, I like to nap.
Well, it seemed my stomach was getting bigger and bigger. Mom decided I needed to go on a D-I-E-T! Can you believe it? A cat diet. So she kept cutting down my portion of food at each meal but it didn't make any difference. I never lost any weight. In fact, mom thought my stomach was continuing to get bigger.
Mom started to get worried and decided I needed to go to the V-E-T! Even though I had no other symptoms and didn't act sick, she was afraid I might have a tumor or something! When my appointment time came, mom put me in my favorite carrier and off we went.
Mom told the vet about how she hasn't been able to get any weight off me in spite of my diet. The vet weighed me and said my current 13 pounds was a little much for a kitty my size. She listened to my heart and felt me all over. She pushed and manipulated my abdomen, which felt kind of odd but didn't hurt at all. I was patient with her because she was very gentle with me.
After her examination, she and mom had a long discussion about me like I wasn't even there! The vet said she didn't feel anything that gave her any concern but the only way to be sure was with an x-ray. She said there were a few other possibilities but those would need a blood test.
Since I am a rescue kitty, and mom thinks my breathing sounds weird some times, she decided to do the FIV test just to get that concern totally off her mind. Luckily, that test did come back negative.
After lots of discussion, they decided the best course of action was to monitor my diet closely and make me EXERCISE more. I would have to go back to get weighed in two months to see if I had improved. Mom was perplexed that cutting down my food didn't seem to be helping and the vet said, "Some kitties just get bad genes like humans!!" Mom said she could totally relate to that.
Why my cat diet for weight loss didn't work
So, are you asking yourself yet, what's funny about this story? Well, here's the funny part and my secret revealed.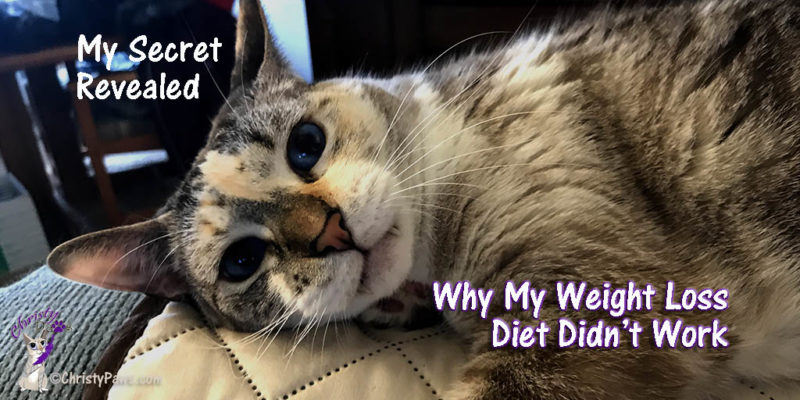 Mom weighs our food every time she feeds us our homemade raw food. She always weighs out less for me than for Echo and Ocean. When she puts the food down, she watches – for a while! I'm a really fast eater and always finish first. I know when she's not watching anymore and I finish whatever Echo or Ocean don't eat. Sometimes, I even push Echo away and eat most of his food. When mom started watching more closely she figured this out. So, what does she do now? She feeds me in a separate room! So not fair.
The funny part is that she wasted her time and money on the vet just because I love my food and am a good eater (read easy keeper). I am grateful, though, that she loves me and takes care of me.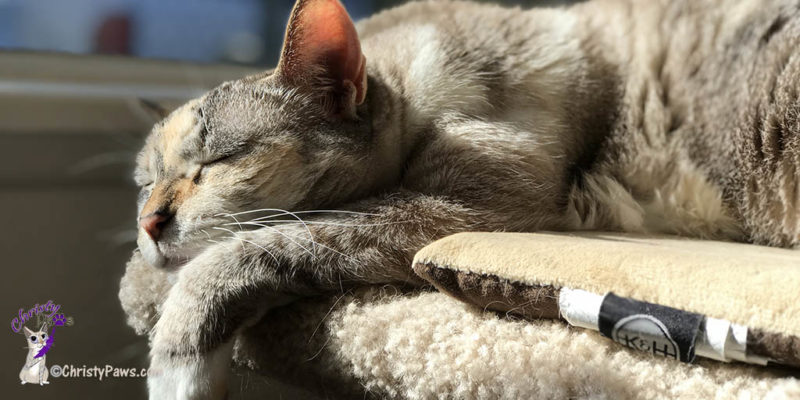 It's about time for me to go back for a weigh in and I think I'm down. I may not ever have that slim waistline, but I'm probably healthier. I've been eating less and playing more. "It's the key to weight loss for both kitties and humans," mom says.
How about you? Do you know a kitty with a weight problem? Have you had to go to the vet for no reason, like me? I'd love to hear your tale in the comments!
Christy Paws