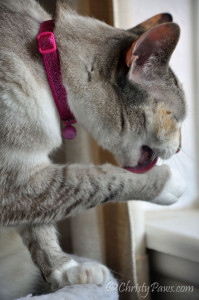 As you may know, mom has fed us a raw food diet for several years now. We posted the diet and how to make it a few weeks ago. Since then, mom has been asked by several people if she has a recipe for a smaller amount that doesn't use a grinder, so last week she made a small batch so she could show you how to do it. The process is really very much the same.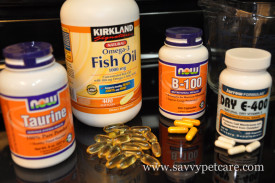 Measure out your supplements and dissolve them in the warm water called for in the recipe while you process the meat and skin. You may have seen recipes with lots more supplements but these are all that we really need. This diet comes from Dr. Lisa A. Pierson at CatInfo.org. It is what we have been eating from the beginning and we still love it.
Mom started out with just under five and a half pounds of chicken thighs. She removed about half of the skin. If your kitties are thin, you can leave more skin. If they are easy keepers, like us, you can remove more skin. In the end, you want to have 3 pounds of meat and skin.
Cut the meat from the bones. Mom doesn't work too hard to get all the meat off. That makes it more time consuming but that is up to you. She just makes one cut down each side of the bone.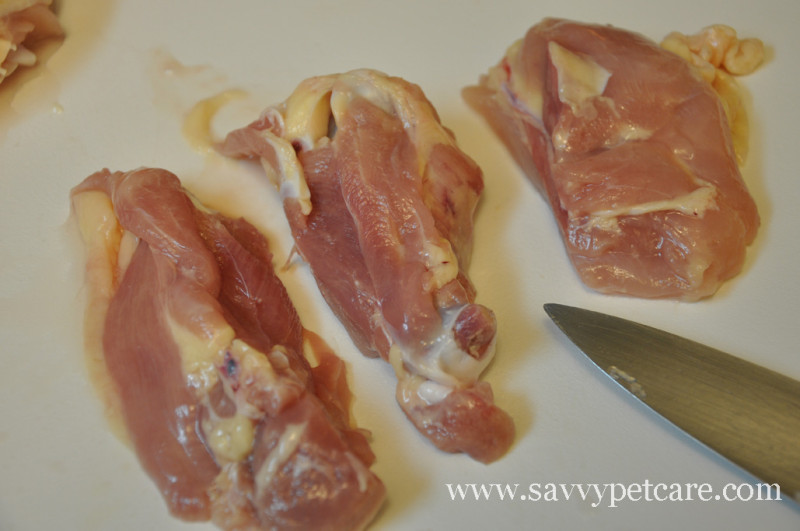 Grind the meat and skin in batches in your food processor. It's okay if there are some bigger chunks. We like to chew on those. Sometimes, the skin doesn't grind up very well. It is better to cut those up by hand a little if that happens. Some kitties don't like chewing on the raw skin so much.
Once your meat is ground, thoroughly stir in the supplements and divide into containers for freezing.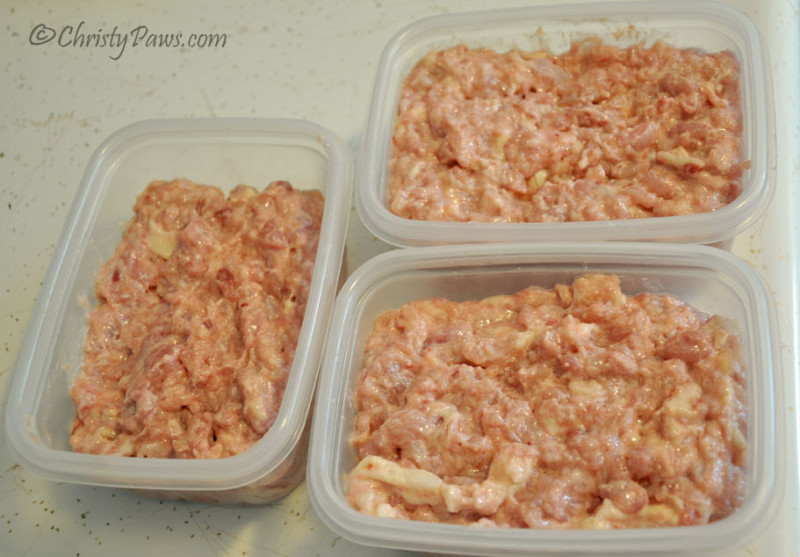 A raw food diet really is just that simple. It took mom about half an hour to make three pounds of food. The average kitty needs 5-6 ounces of food a day so this will feed one kitty for about 8-9 days.
Now remember, we started out with more than five pounds of chicken, so not using a grinder means there is some waste. But wait. Don't just throw those bones away with all that meat on it. Mom puts them in water and makes stock. She doesn't add any onions or veggies while the chicken is cooking. Then she takes the cooked meat off the bones and gives that to us too, mixed in with the raw or as treats. Make chicken skin treats from the leftover skin and all that goes to waste is the very clean bones!
Click here for the printable 3-pound recipe.
When mom feeds us, she heats our food. She puts enough for all three of us in one container and adds extra water. She says it is about the consistency of thick chili. Then she heats it in the microwave on a very low setting (power level 3) for a short time (1 minute). If this isn't quite enough, she does the same thing again for 30 seconds. Once it is heated, she puts it in our individual bowls. If you are heating food for just one, you would need much less time. If you do heat it too much and cook it a little, it is not a tragedy. Just make sure it is cooled off before you feed it! You'll soon get the hang of how long to heat it.
Why does mom heat our food? We like our food at mouse body temperature. Do you think your kitty doesn't like canned food the second day? It is probably because it is cold from the refrigerator. We don't like cold food.
Remember to introduce this diet to your kitties slowly. You know we don't like change! Some of us can be very stubborn. It took mom weeks to completely transition Echo. He can still be a little finicky if he thinks it is just not quite right. At those times, mom crumbles some of our chicken skin treats on top like croutons and that usually does the trick. Raw chicken doesn't have a lot of odor so sometimes it doesn't smell like something to eat!
Wishing you a healthy life with lots of good noms!
Christy Paws
Save