Disclaimer:  As a True Science ambassador, I receive free products and am compensated for sharing information about True Science and its products. My opinions are my own and I only share information that I feel is relevant to my readers. True Science is not responsible for the content of this post.
I was pretty excited a while back when a representative of True Science contacted me and wanted me to be an ambassador. As a company, their mission is to combine the highest quality standards and advanced scientific processes to provide the finest pet products, made in the USA. As an Ambassador, I'll get to tell you about a lot of their great products over the next few months. Today, I want to tell you about some tasty treats that we've tried out, including under some unusual circumstances.
When mom came home from BlogPaws, she brought us lots of treat samples. We don't get treats very often, except for the ones mom makes, so these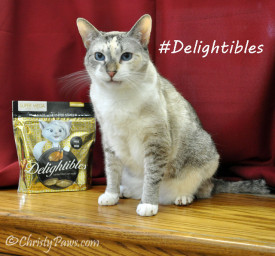 really were special for us. We tried them all and liked some better than others, some we didn't even like at all. When mom opened the Delightibles, I have to tell you, we all went nuts. The Delightibles I am reviewing are a different variety from the ones mom brought from BlogPaws (which I think I will get to tell you about another time) so mom was interested in seeing if we would like these as much.
Of course, before mom would open the package, she had to do a photo shoot. All but just a very few of my photos are candid shots so mom thought this might be a challenge for both of us. Mom knew she would need treats to have any hope of making the shoot a success. There were just a few of the other Delightibles left and she used these until the new package was open. Now I'm a pretty smart kitty and I realized right away that if I sat quietly, I kept getting treats. Mom loves the small size because she can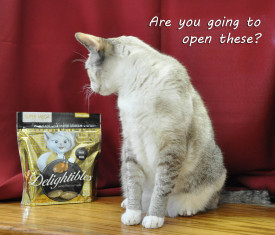 give me a lot of treats, for multiple photos, without filling me up.
Mom kept taking pictures and I thought she was never going to open the new bag!
Once the bag was opened, mom wanted me to start learning to sit up. Well, I decided I could do pretty much anything for these treats. While mom was taking these photos, she kept telling me she needed an assistant. She had one hand stretched to the shutter on the camera on the tripod and the other stretched out to give me a treat while trying to stay out of the photo. It was pretty amusing to watch.
Mom let Echo and Ocean see what they thought of the Delightibles. Ocean is not only a toy hog but also a treat hog so Echo didn't get nearly as many as he did!
Mom wanted to do a video of the experiment she did with us but just couldn't figure out a way to do it without some sort of tripod for the iPhone. For the experiment, she held a treat in each hand, one a Delightibles and in the other hand a different treat. She repeated this with several other treats and we picked the Delightibles every time.
When she was satisfied with the photos from the shoot, she downloaded them to the computer and started to work on editing them. She had a multi-tasking afternoon planned – photo editing, designing literature for the fundraising event that was being held in a couple of weeks and making a batch of cat food. That was the day aunt Kelly came home saying she saw a plume of smoke and she and mom needed to go see if they could tell where it was. A couple of hours later, the power went out, putting an end to whatever she had planned for the afternoon.
The next day, it looked like we were going to have to evacuate, so mom started packing stuff up including a box for us. But she had no food for us! She didn't get food made and she used the last of what she had the morning we were evacuated. The local store wasn't open because there was no power. When we finally got settled in for the evening that first night, mom had nothing to feed us but treats. The good thing is, the Delightibles can be substituted for dry food because they meet the nutritional levels established by the AAFCO Cat Food Nutrient Profiles for all Life Stages. Mom doesn't normally feed us dry food but it was better than no food, she thought, and we were quite pleased with it.
#Delightibles gourmet #cattreats are made in the USA from USA-sourced ingredients @Delightibles
Click To Tweet
Delightibles gourmet cat treats are made in the USA from USA-sourced ingredients, are wheat and soy free, and contain no artificial preservatives. These tasty treats have a crispy outer shell and a soft center. They come in a variety of flavors including chicken, turkey, tuna, salmon, beef and dairy. You can get them at Walmart stores in the US and Canada, at walmart.com and at Meijer stores.
So, just in case I didn't make myself clear, we all gave Delightibles paws way up!
Have a great day. I hope mom wants to do a photo shoot today. Oh, and by the way, it's RAINING!
Christy Paws