I was planning to post about bird TV yesterday but mom got too busy to type for me. The weather TV is predicting 3″ of rain over the next five days and mom needed to do some work on horse sister Dancer's stall.
Off she went yesterday morning to do some shopping. She said she was so glad it wasn't the usual kind of Black Friday shopping because she hates crowds. She and Kelly and fur buddy Dieter went to Tractor Supply for mats for the stall. What a pleasant surprise she got when the stall mats were $10 off for Black Friday. When you are buying eight, that's a big savings!
While she was at Tractor Supply she also bought some bird feeders which she had been promising us but I guess she won't be able to put them up until the rain stops. This will surely bring in some premium channels on our bird TV so maybe it is better that I didn't get to write about it yet.
From Tractor Supply they went to Feed Barn looking for a few more miscellaneous horse supplies. Dieter got to look for a new toy but none seemed to interest him so he came home empty pawed except for the dental chew his mom got him.
But guess what! While at Feed Barn, mom couldn't resist the 30% off on cat trees so look what she brought home for us! She said one of our trees was ratty and needed replacing. I looked for the rats to save our tree but couldn't find them.
When they got home from shopping, mom and Kelly spent the afternoon working on the stalls. We can see them from our back window so we watched for a while – between naps.
Mom planned to type my posty after that but more fun and excitement got in the way. Our first order from chewy.com had been delivered while she was shoveling mulch and laying mats. She had ordered us some freeze-dried treats, a new kind of litter to try and a heated window seat.
She was all excited abut the new window seat until she started unpacking it and there were no brackets in the box. Bummer. Now she has to contact chewy.com to get the parts. In the meantime, she has just laid the bed on top of the washing machine. None of us wanted any part of it at first but, of course, I was the one who discovered how warm and comfy it is. It will be even better when it is installed properly in front of the window that doesn't have a wall heater below it. Then there will be three warm windows to lay in and look out of!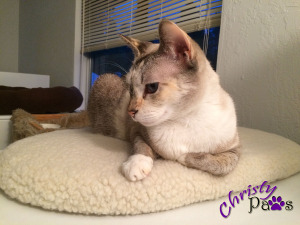 Well, I think that is all for now. Mom wants to do her Caturday Art post so I may let her do that later today but I really needed to post this update while it is fresh in my mind.
Have a great weekend!
Christy Paws