Back at the end of November, mom got us a couple of bird feeders on one of her many shopping trips. She had gotten rid of a lot of stuff before the move and some of it needed replacing. When she went to hang the feeders, she realized her little kitchen step ladder wasn't tall enough to reach and she needed a ladder. Even once she got the ladder, there were more delays in hanging the feeders. Sheesh!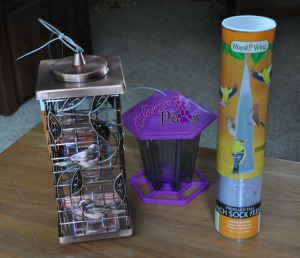 A couple of weeks ago, she got two more feeders and bird seed. She got a really pretty feeder with fake birdies on it and a purple one just for me! She said she had to do it but it is a little tacky so it had to go in the back yard. The pretty one is in the front.
She told us it might take the birdies a while to find the feeders because there is still a lot of natural food on the ground. She also told us that it would probably take a while for them to get used to coming so close to the house.
For the first few days after the feeders were up, NOTHING happened. Then, one brave little birdie came a couple of times, grabbed a seed and flew away.
Mom decided to leave the blinds down but open so the birdies couldn't see us so easily on the other side of the window. This seemed to help and more and more birdies started coming.
They still don't seem to have found my beautiful purple feeder though. I am patiently waiting. I like this spot because this is my heated bed. Here birdie, birdie. I only want to watch. Really.
Happy bird watching.
Christy Paws