Mom went out last night with Aunt Kelly, her friend from next door. After mom got home — and fed us late! — Aunt Kelly came over for dessert. But she didn't come alone.
Aunt Kelly loves kitties but she is a dog person and has two woofies. You may have seen Dieter before, who is a rowdy little Schnauzer. I watch him out the window, playing in the yard next door, and he looks like a bit much for me.
The woofie she brought with her is named Asia. All us kitties had met Asia before because mom used to take care of her down south when Aunt Kelly would go out of town (before she moved up here). That was a long time ago and we haven't seen many woofies since then.
When Asia stayed with us in the past, she was always nice to us, but we were all still a little skeptical! We didn't need to be though. She is getting up there in age and is nearly blind and deaf so most of the time she wasn't even really aware of us. We all took turns checking her out.
Ocean got brave first while I watched from behind the printer.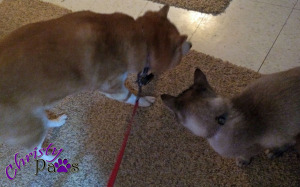 Not to be outdone by him, I had to go say hi. Once was enough though. After that, I sat by mom's chair and didn't venture out again.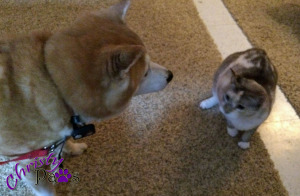 Echo checked her out too, but Ocean was the bravest and even touched noses with her.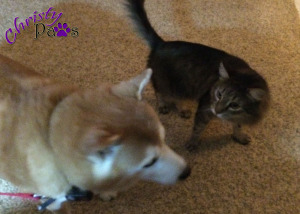 Wow! That was a lot of excitement for the evening. We were glad to get back to our napping.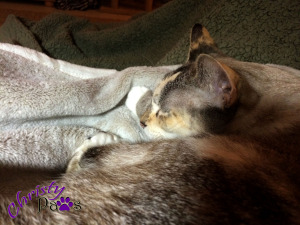 Pleasant dreams!
Christy Paws