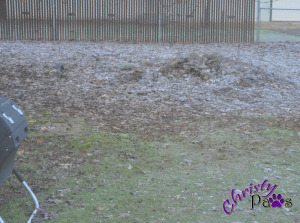 When we woke up this morning, there was white stuff all over our lawn. Mom says it is not snow, just frost. It may not be a white Christmas but it is the closest we are going to get — at least for this year. It has been raining off and on for weeks but never when it is cold enough to snow. Mom says it has to be colder for the rain to turn to snow. Wow, weird. It rained yesterday afternoon but it was in the 40s. Last night, it got down to 29 but no rain. Mouses, as Nissy would say.
We don't really know what snow is. Mom has had white Christmases when she lived in the desert, but Echo, Ocean and I lived all our lives in southern California. We almost forgot what rain was! We've read some of your stories about it and seen your pictures, but we've never experienced it for ourselves. It sounds very cold, and I don't like to be cold. It also sounds like it might be wet. I don't like that either so I might just look at it through the windows. Mom has said she will take us out in it on our leashes but I'm thinking we might protest against that!
As a special Christmas bonus this morning, we had another deer sighting! This one had antlers and was in Kelly's yard next door.
I hope you all are having a wonderful Christmas day with your loved ones. Mom has two places to go today and will not be cooking at home but she has already given us lots of snuggles, extra noms and some special treats she made for us. I'm thinking we might get more of those treats in between visits! Oh, and we got some new toys, but we got our big present a couple of weeks ago when mom brought home our new cat tree.
Happy holidays! Love you all.
Christy Paws