Boy, mom is really taking this "safe while traveling" thing pretty seriously. A few days ago, she made sure my microchip information was all recorded properly and up to date. Yesterday, I got a new collar. Really, is this necessary? The collar felt weird at first too, like the harness, but I got used to it pretty quickly. It doesn't grab me around my chest. Mom thought that maybe if I get used to the collar, the harness will be easier. Time will tell.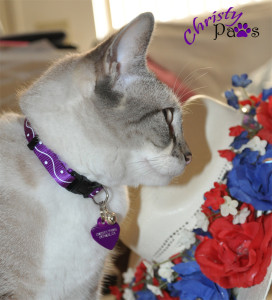 When she put the collar on, the confusing part was the dangly thing hanging from it that mom said was my ID tag. It's to tell people how to contact her if I should accidentally escape. Right now, I can't imagine that happening. If I were in a strange place and the door got left open, I would probably run away from it and hide under something, not try to escape. I've only been outside a few times and there are SO many scary things out there! I'm convinced that monsters are lurking in every nook and cranny. You should have seen the back flip I did the last time I was out on my harness when I backed into the table leg!
I do like my ID tag. It is a pretty purple heart and it goes nicely with my new purple collar. It has my name and city on one side and mom's name and phone number on the other side. Mom says that even though I have a microchip, I still need a collar with an ID tag. That's because the average person who might find me can't read the chip and may not think to take me somewhere where they can. The chip is good if I should end up at a shelter or vet's office but if a neighbor should find me, they have mom's phone number right away on the tag. Mom says I have to wear my collar all the time since if I slip out, she won't know to put the collar on first!
Do you think microchips and ID tags for cats are important?
Christy Paws