Mom saw a post on Bailey Boat Cat's blog about his American Dream photo contest and wanted to post an entry; however, she said she was stumped for an idea for something to represent the American dream. I tried to help her out by asking for ideas on my Facebook page. Her friend, Debbie, replied suggesting something with ice cream. I really liked that idea because I LOVE ice cream. When mom gets a dish, I sit on the arm of her chair staring at her until she is finished and she gives me a little spoonful of the tasty elixir. But mom said she wasn't sure how she could incorporate that idea in to a photograph.
Then, when she saw me laying on her cowboy boots, she says she got an idea but would need to borrow a prop from her friend, Nancy. Nancy had decorated a cowboy hat with blue and red flowers for the 4th of July parade that mom thought would help convey the idea.
My American Dream Photo Contest Photo Shoot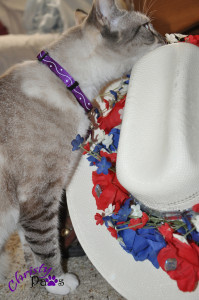 With prop acquired, mom set up the shoot. I, however, was more interested in the flowers on the hat than sitting around posing. I was less than cooperative at first, which of course is my job, but eventually I gave in and set about posing. Mom finally got the shot she wanted, thank goodness, and I was free to go about my business of sleeping.
The two photos on Bailey's Facebook page with the most votes by midday EDT on the 2nd of September (the day his book launches in America) will receive a copy of his new book, Bailey Boat Cat, Adventures of a Feline Afloat. Even if we don't win a copy, mom says she will order one. We are very fascinated by Bailey's life on his boat. Mom says she used to have a boat and misses it very much.
Here's the photo mom entered in the contest. What do you think?