OK, well, not really a new identity, just a new ID tag. Actually, I've had it for a while but I forgot to tell you about it. Back when we knew we were moving and mom wanted me to start going places with her, she got me an ID tag. Only trouble is, she thought we were moving to Orange, CA, so that's what my tag said.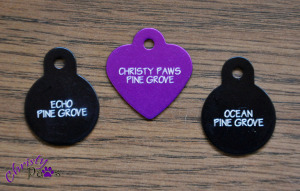 Instead, mom ended up "retiring" and moving to northern California so we needed new tags. Mom likes these tags from the pet store because they are convenient and you get them on the spot, but they are limited. As you can see, CA would not fit on the new tags. Her name and phone number are on the back.
Now, I don't know if I agree with this ID tags for cats business because I have a microchip too, but mom says we need all the help we can get if we accidentally get out, especially in a strange place where we don't know our way around. She said some kitties will get so scared that they will run and run and run and end up a long way from home. I think I would just go somewhere and hide! Mom says she doesn't want to find out so no Houdini stuff, whatever that means.
I follow a lot of kitties on Facebook and a few of them have escaped from their homes and gone missing for a while. We were all so worried about them! Fortunately, they all were found, except for one who has been missing for more than three years. His owner still actively searches for him.
Have you known kitties who got out and were lost for a while? How were they found?
Stay safe,
Christy Paws