Today is National Answer Your Cat's Questions Day and I have just one burning question for mom. Why do you insist on continuing to torture me with the harness?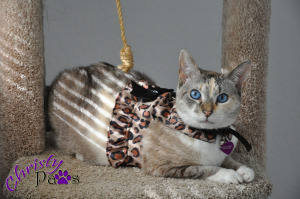 Mom replies: Oh, Christy, you are doing so much better with the harness, how can it still be torture? To answer your question, I really, really want you to be able to go for walks outside. I think once you are used to it, you will enjoy it
so much you will be sorry you fought it so hard. You love it when the doors and windows are open and think how much better you could smell all those smells if you were actually outside. Just imagine the one big sun puddle! And don't think I don't see you hunker down like you want to run out when I open the door.
Also, I guess I'm a little selfish. I think it would be so much fun to have you by my side on walks and trips in the car. You could even go to the pet store and pick out your own toys! Remember, we talked about that boring thing? Don't you get bored laying around all day and night sleeping? This would add a little, maybe even a lot, of excitement to your life. It may not seem like it to you, but I am doing this because I love you.
Christy's response: Oh, mom, I know you love me. I am doing better and feeling more comfortable in my harness. I really appreciate that you are taking things so slowly, even if it is because you forget sometimes!
Hope all my feline friends got their questions answered today.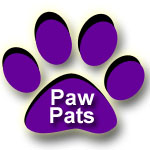 Christy Paws