When Miss Deb of Zee & Zoey's Cat Chronicles invited folks to participate in Rainbow Bridge Remembrance Day, mom and I said yes right away. She has been wanting me to write a post about her soul kitty, Hollywood, for some time and this seemed like the purrfect opportunity. Now you might think that this would bother me, that mom had another soul kitty (can you have more than one in a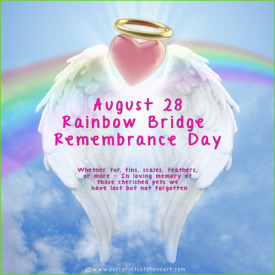 lifetime?) but it doesn't. In fact, mom has told me many stories about her and Hollywood is a bit of an inspiration to me.
For the past day or two, I've been seeing the human mom's saying that writing about their kitties over the bridge made them have leaky eyes. Mom has promised me she won't do that, but if it happens, I will understand. In hopes of keeping things dry, we have agreed to make this a happy story, with only the good stuff. One thing that helps is that it has been quite a few years so mom's heart has had time to heal.
Many years before I was born, mom and her boyfriend would go to this particular pet store for supplies for their fish tank. For weeks, this fluffy Himalayan kitten was hanging around — usually in the rawhide dog bone display! She was never in a cage and greeted all the customers with purrs. Mom would pet and play with her while her boyfriend chatted with the owner and got their supplies. This went on for a couple of months and the kitten was about six months old by then. One day, a lady came in with her daughter and they paid particular attention to the kitten. They talked to each other about taking her home. A few minutes later, mom's boyfriend walked up to mom and said, "Go get your kitten." Mom said, "What?" Turns out, her boyfriend didn't care much for the lady and child and decided to save the kitten from them by buying her for mom.
At that time, mom and her boyfriend had just completed shooting a video and the boyfriend spent lots of long nights in Hollywood editing the video. They decided her registered name would be Miss Hollywood Nights. She was always Hollywood, never Holly for short. If she was in trouble, which wasn't often mom says because she was nearly perfect, it was Hol-ly-WOOD!
One of the times she scared mom the most while she was still a kitten was an afternoon when they couldn't find her. They searched and searched in the house. They thought maybe she had somehow gotten outside, so they searched and searched out there. After hours of searching and mom in tears, they heard a tiny little mew. They waited to hear it again to see where it was coming from. Finally, they realized it was coming from inside the sofa. Hollywood had gotten closed up in the convertible sofa!! Mom was so grateful she hadn't gotten hurt or suffocated she cried some more.
The thing about Hollywood that inspires me most is what a brave kitty she was. When mom took her out of the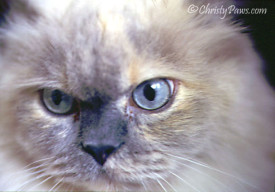 house, she never put her in a carrier. Even when she went to the vet, mom carried her in and she sat in her lap. (Remember, this was many, many years ago!) She was never afraid and never tried to get away. And she wasn't afraid of woofies!
She learned to walk on a leash and loved it. She traveled a lot with mom, but that is a whole other story. As I'm writing this, I realize I have a lot more to tell you about Hollywood. She had a long, interesting life with lots of adventures, so I'll tell you more about her next Friday.
If you haven't already commented on my blogoversary post, please click on over and do so. I'd love to get more of mom's green papers to donate to A-Pal Humane Society!
Wishing you all happy memories of furiends gone to the bridge.
Christy Paws