The Traveling Bikini arrived here mid-September while we were evacuated from the fire. It was waiting at the Post Office when we got back home.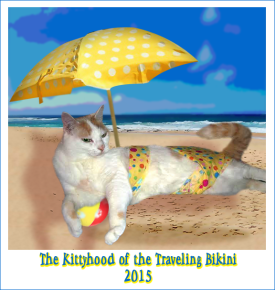 Mom apologizes for holding it hostage for so long but has been dealing with a lot of things, mostly computer issues since the fire, and hasn't been able to write my posts for me much. It's not very practical to write blog posts from an iPhone. At least that's what mom says.
Do you know about the Traveling Bikini? Back in May, Phoebe of 15andmeowing had the (fun?) idea to send a bikini around to her friends for them to take photos in, and so began The Kittyhood of the Traveling Bikini. The first kitties to get it after Phoebe were the Critters in the Cottage. You can see their post here. Then, the Florida Fur Kids at Friends FurEver, Pierrot of Annie's House (Gooey Lounge) and Kitties Blue at The Cat on My Head gave it a go. I think they all did a great job. The next poor victim, er, I mean lucky kitty, is Mudpie of Mellisa's Mochas, Mysteries and Meows. If you'd like your name added to the list, let me know in the comments below. The bikini will be mailed off on Monday to Mudpie.
So, when mom pulled the bikini out of the package I thought, "You're kidding, right? You're not going to try to put that on me, are you?" But I love mom and I try to make her happy so I let her put it on, sort of. As soon as it went around me, what do you think I did? That's right. I went limp and wouldn't move, just like the first time she put a harness on me. She tried and tried to adjust the bikini but I just couldn't move.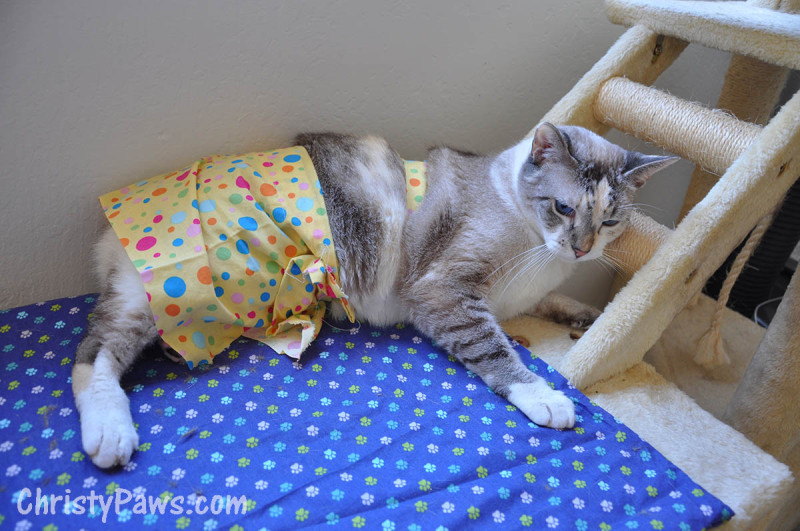 She tried turning me to the other side to adjust the seam and I just gave her my "I'll get even" look. Mom says this would have been a pretty good shot if I didn't look so grumpy.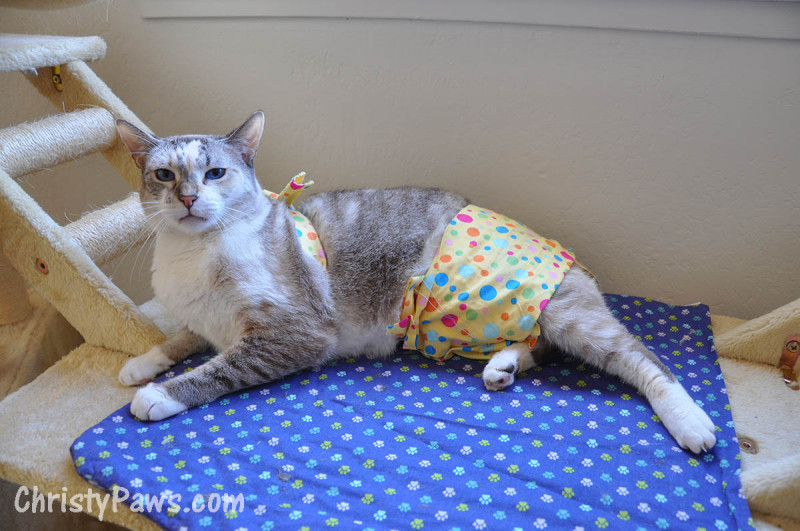 Finally, she stopped trying to adjust and just brought out the treats, hoping to take my mind off of it and get some better photos.
Well, of course, the treats worked. She even got me to sit up but it looked like I had a load in my drawers, if you know what I mean!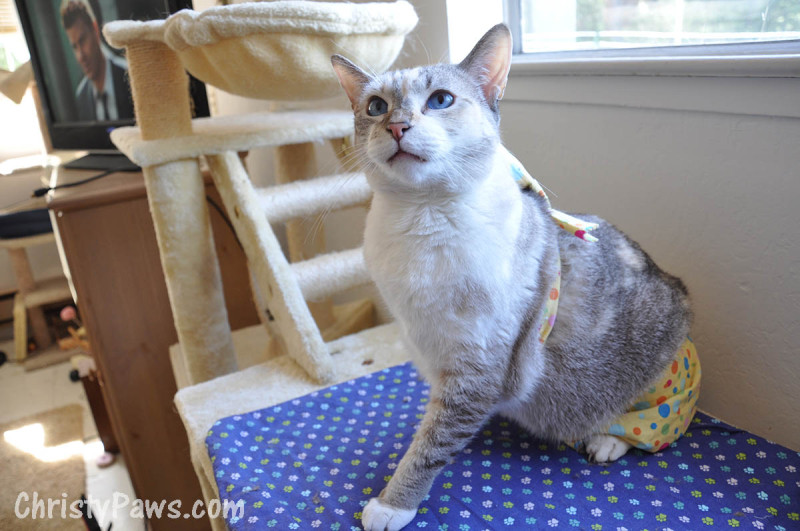 During the shoot, I did have few more choice comments to make.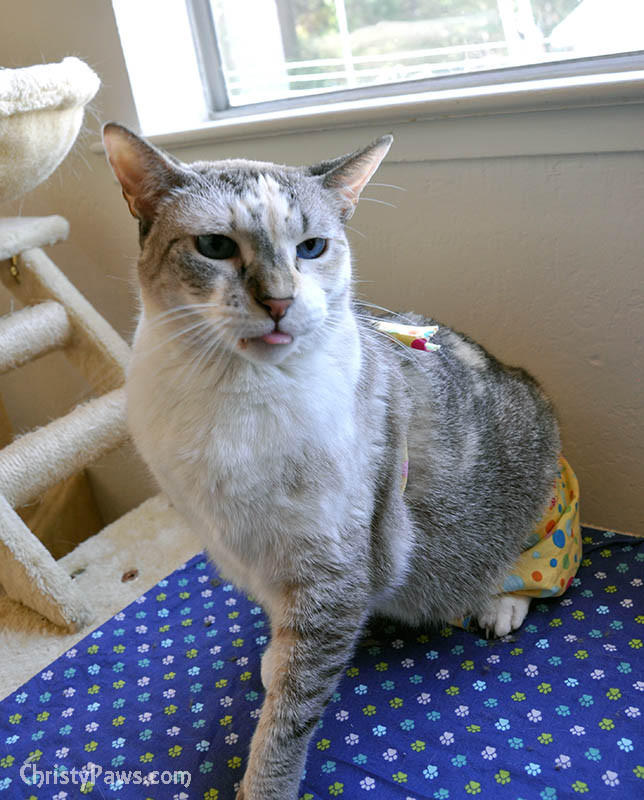 The best part of the photoshoot is that when it was done, I got a catnip fish from Phoebe. The sweet Kitties Blue sent along a bag of treats that I'll get to enjoy sometime soon.
Since I didn't exactly rock the bikini, mom decided to have some fun of her own with it and include it in today's Caturday Art. Here's the original beach photo. She flipped it horizontally and used the cutout filter.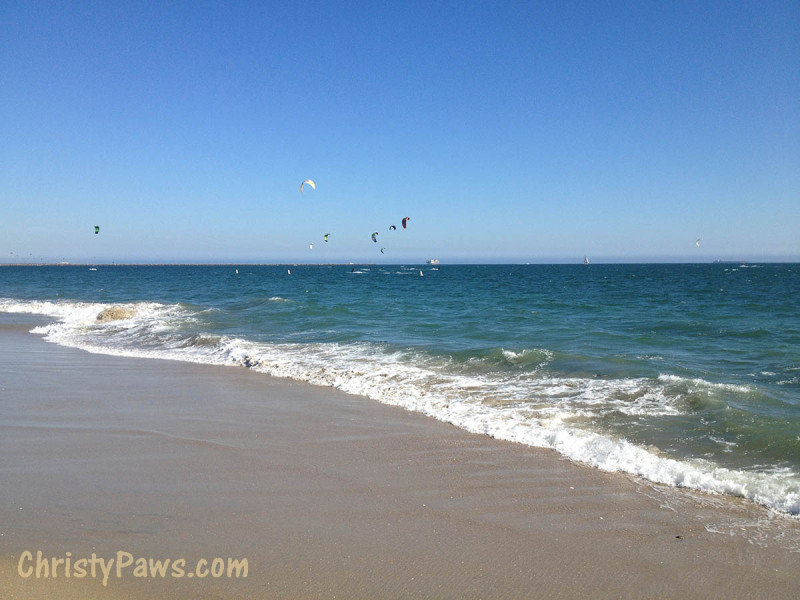 She added a cut out of me and some beach clipart, matched the sand to the clipart and, voila, I am enjoying the sunshine and the salty ocean air in my Traveling Bikini.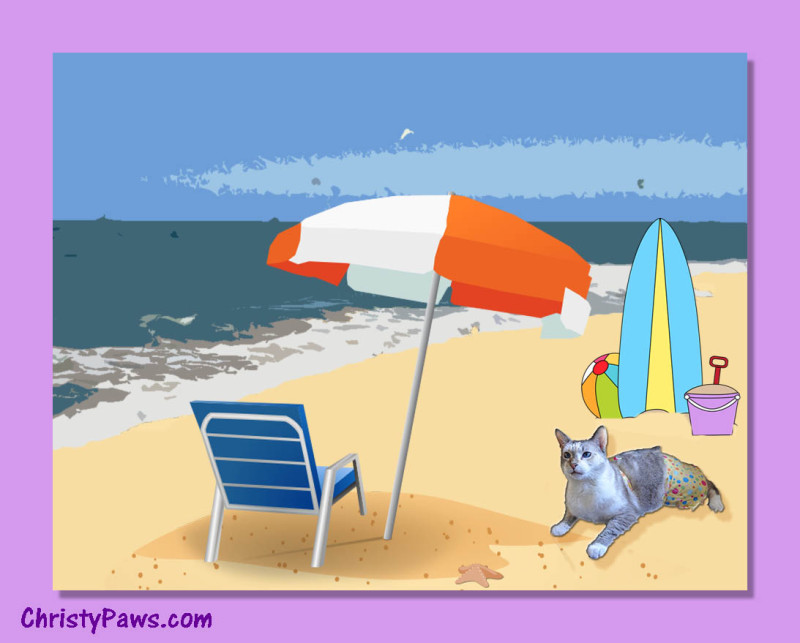 Wishing you a sunshine and salty ocean air kind of day!
Christy Paws
We are joining the Caturday Art Blog Hop hosted by our friends Athena and Marie. Click on the badge to see more great art or to join in the hop.