Hello everyone and thanks for stopping by. I am one excited kitty today. I can hardly believe it, but I have been blogging for one whole year. That's a long time in the life of a cat! When I first started blogging, I never really gave it a thought as to why I was doing it and it has been a bit of a walk down memory lane figuring it all out. But, before I get started (I might get long-winded) please help yourselves to some refreshments.
Last year, mom was recovering from surgery and going through chemotherapy. She was writing for her two other blogs, Horse Buzz A-Z and Savvy Pet Care, as well as the rescue's blog. She had joined BlogPaws in June of 2013 for the Savvy Pet Care website and was participating in the Wordless Wednesday Blog Hop. I think when she started following some of those blogs, she decided we needed to do something fun. And we thought I could do a lot of good for the rescue as their Advo-CAT.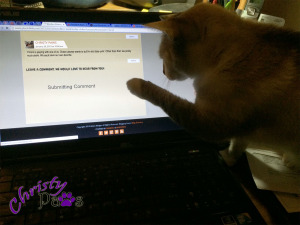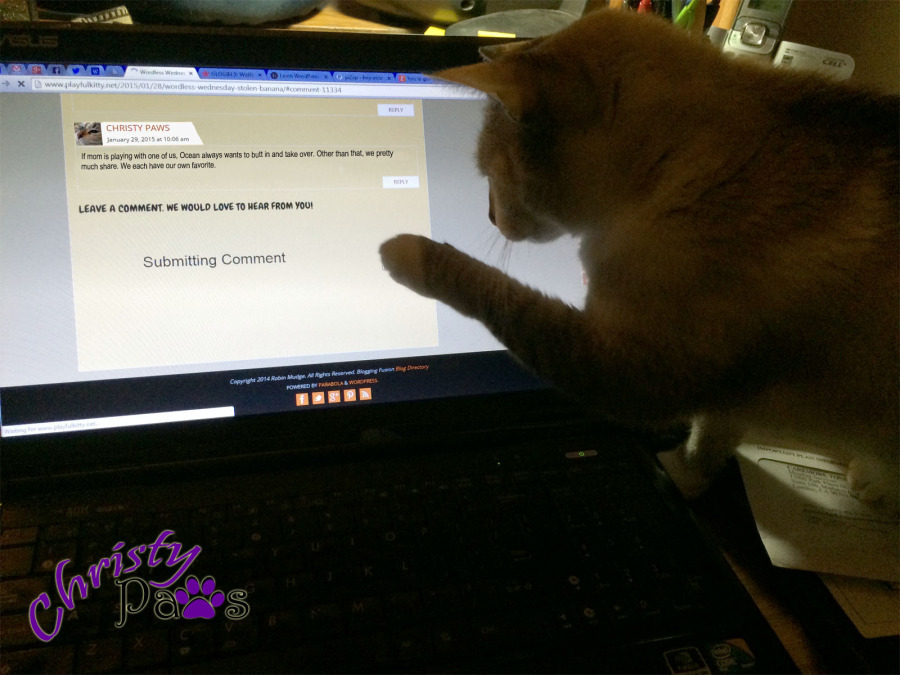 Mom started my Facebook page on August 18, 2014. She was working on setting up the blog at the same time and I published my first post on August 24th. I joined the BlogPaws Wordless Wednesday Blog Hop that week and I got my very first comment on the blog — from a woofie! My very first commenter was Miley's Daily Scoop. On that same post, Miss Emily, from Kitty Cat Chronicles, was the first to reach out and offer the new cat on the block help if I needed it. We knew right then that the people involved in this community were going to be super!
About the time I started my blog, mom was pretty tired from the chemo and she knew we were going to have to move. She didn't know what the future of Horse Buzz A-Z and Savvy Pet Care would be so she stopped writing those blogs and we concentrated on having fun on mine. She started a Pinterest account the end of August and said that was it. No more social media for Christy Paws. Then came Twitter in October, just before we moved.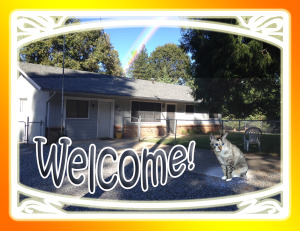 In September, circumstances made it possible for mom to retire and for us to begin our move to northern California, next door to her best friend, Kelly. Mom had always planned to retire here but had no idea it would be so soon. Mom wanted to get most of our stuff moved in October, in case the weather turned bad, but she had to go back down to southern California until mid-November to finish her chemo. Aunt Kelly took care of us for those three weeks until mom was finally able to bring the last load of stuff up and RELAX.
Highlights of My First Year of Blogging
September
January
I got a Google+ page and a YouTube account. So much for no more social media!
April
I participated in the Blogging A-Z Challenge. It was a lot of work posting every day but I did enjoy it. I missed a few days but we finished and I met a few new bloggers.
I shared my raw food diet and how mom makes it. Raw feeding is one of the serious missions of my blog.
I got Cartoon Me from Nellie's mom and designed my very first business cards. Had to have them for BlogPaws!
May
June
July
August
Whew! My head is spinning just thinking about all I've done. But the best part of this year is you — all the new friends I've made. I set out to lighten things up for mom and have fun. I hope I've accomplished that, at least a little bit, and you've had fun with me.
As I mentioned yesterday, I wanted to celebrate the year by doing a comment-a-thon for A-Pal Humane Society. Mom will donate $.50 (up to $100) for every comment left on this post by Sunday. Next Monday, she will announce the amount of the donation.
Thank you so much to all of you for being here and being a part of my celebration, today and every day!
Love you all.
Christy Paws