I really love Instagram and my Instagram followers. Instagram has so many great photos to see of all my pals. Here are my July Instagram favorites, but I posted lots more, so go take a look if you haven't visited in a while.
This photo is one of the last ones mom took in my hotel room at the Sheraton Grand at Wildhorse Pass in Chandler, AZ, when I was on my big road trip. I think it is my favorite of the month. The room had such pawsome sun puddles and Mom says it is that great natural light that really shows off my eyes.
Mom is always trying to catch me off guard when she's taking photos of me because I like to look away when I see the camera pointing at me.
I like to know what my pals are up to and how their day is going. They're not always forthcoming with that information!
We have a high shelf on the wall in this room but I also like getting on top of the book shelf attached to mom's desk. I can survey the whole room from here.
How could I not include this photo of me and mom taking a snooze together? Sometimes, in the afternoon, mom will take a little nap and that's my favorite time of the day. Sure, I nap most of the time, but I prefer doing it with mom.
I am always so helpful. Here I am trying to show mom how important it is to put "take a nap" on her to do list.
Caturday Art
Since today is Caturday Art day, I helped mom artify one of my Instagram photos. Hope you like it.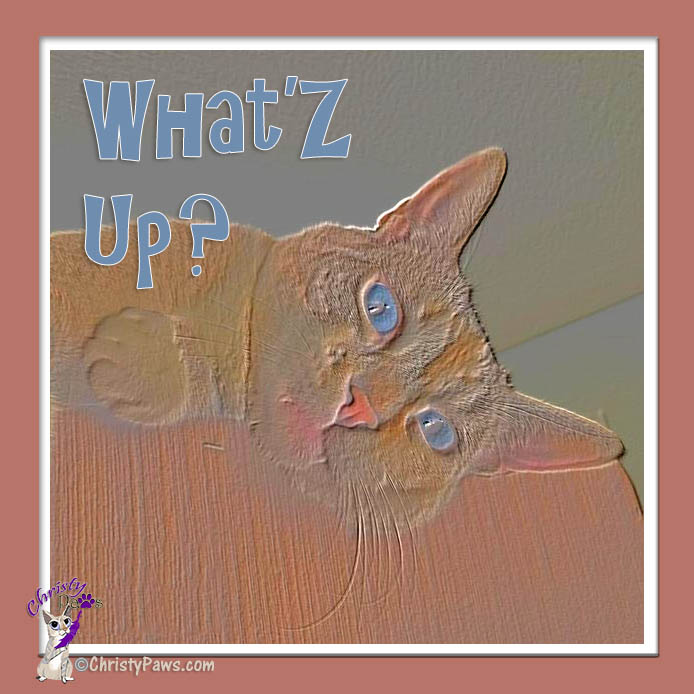 Until next time, my furiends. Have a great day and tell me What'Z UP in the comments.
Christy Paws
We are joining the Caturday Art Blog Hop hosted by our friends Athena and Marie. Click on the badge to see more great art or to join in the hop.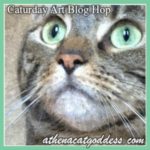 Save
Save
Save
Save
Save
Save
Save