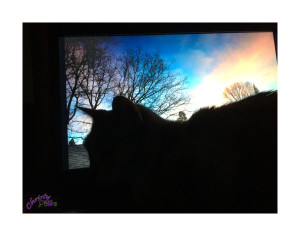 When mom got up this morning, she told me she had absolutely no idea what she was going to do for Caturday Art and even less inspiration. Do you have days like that?
Anyway, she sat down at the computer and started looking at photos. She pulled up a photo and tried a few things with it but didn't like it so she tried another. No luck with it either. "Boring," she said. Finally she found this photo and thought maybe she could do something interesting with it.
As always, in Photoshop Elements, she created a duplicate layer, preserving the original for future duplicate layers. She used the posterize filter on the first layer. Since so much of the photo is black, it didn't do much except kind of give a water color effect to the sky.
On another layer, she used the glowing edges filter which added all the white to the trees. She moved this layer behind the posterize layer and set the posterized layer to 65% to let some of the glowing edges layer through.
Next, on another layer, she selected all the solid black areas and cut out everything else. She then used the emboss filter on this layer.
Then she added four more layers, increasing the canvass size each time, and filling the layers with colors from the photo.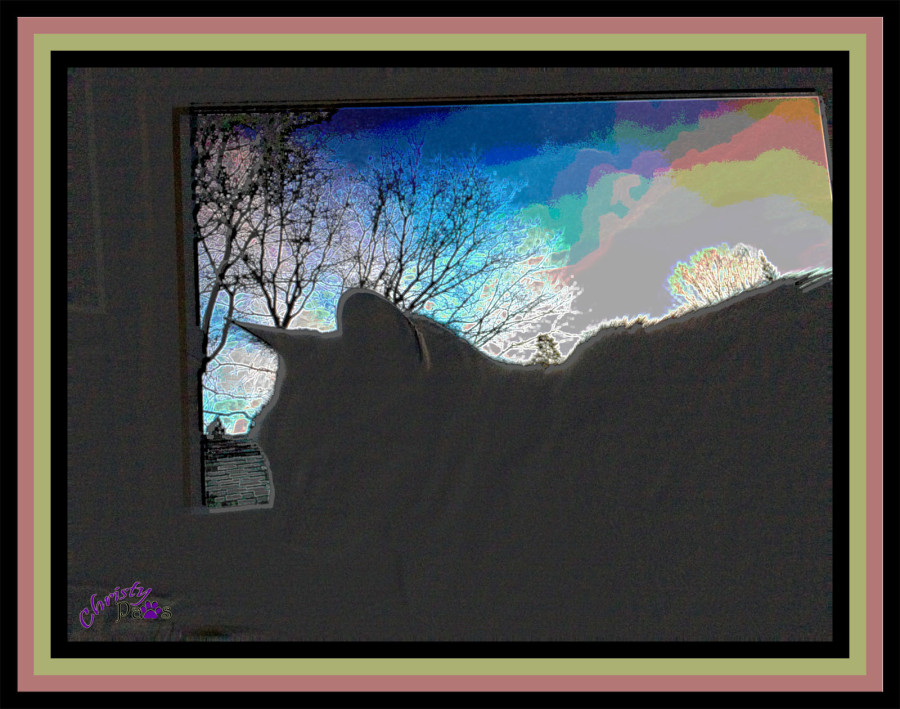 She wasn't especially thrilled with the "muddiness," as she called it, of the embossed layer but decided to leave it. As she turned layers off to get to the original photo to save it, she did kind of like what happened.
Hope you have an inspired day!
Christy Paws
This is a blog hop hosted by Athena and Marie. Click on the badge to see more great art.