Traveling with Cats
Whether you are a seasoned veteran traveler or getting ready to head out on your first trip, I bet you'll find lots of useful information on traveling with cats in these posts from some of my best pals. Oh, and there's even a post written by mom for her Savvy Pet Care blog. It stars me, of course!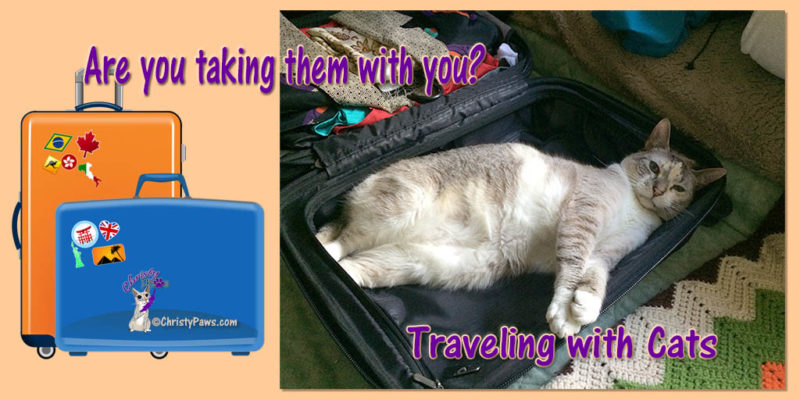 Planning – Before You Go
Every successful trip starts with a great plan. This is especially important when traveling with cats. Rules are different for us than for humans. Here are things to take care of before you go.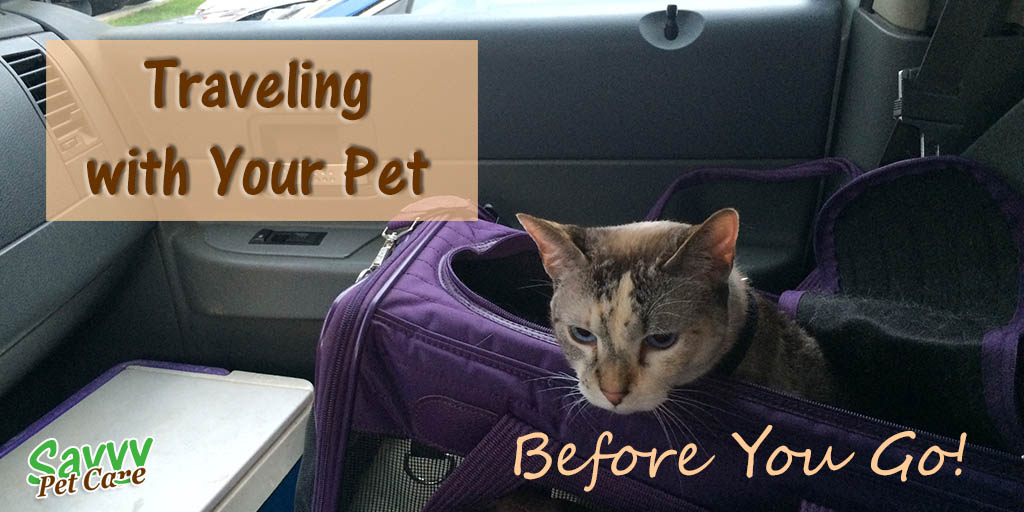 Traveling with Your Pet — Before You Go from Savvy Pet Care
If you are planning a vacation that includes the family pet (yes, some people travel with their cats and even their pocket pets), there are several things you should do before you go. Proper planning can mean the difference between a fun experience for all involved or a disaster.
Speaking of going, here is an awesome article by my friend Summer. This is an important skill for traveling kitties!
If you were wondering how I learned to use the litter box before travel, here is the explanation! I think you will find it interesting.
Packing
You may think there aren't a lot of things to pack for a kitty but the list can be long if you want to be prepared for most any situation. Here are two posts with packing lists. The first one even has a printable checklist.
Cupcake is a new friend. She recently made her first trip on an airplane when she went to BlogPaws in Kansas City, MO.
My first trip by air with Cupcake is coming up, so I have been working on her packing list for cat travel to be sure all of her needs are covered. I broke down her needs in to categories.
Sophie is an adventure cat so she needs even more things than your average traveling kitty. Visit her website and check out some of her adventures.
Traveling with a Cat: Sophie's Packing List from Kitty Cat Chronicles
Sophie is an Adventure Cat and loves to go on… well, adventures! She's been boating, camping, sledding, canoeing, she's been to parks, to outdoor concerts…
Traveling by Car
Traveling by car is the only way I've traveled so far. We've done short local trips and I went on a long road trip to BlogPaws in Phoenix in 2016. You can read about some of our preparation here and here.
Our friends at Sweet Purrfections teamed up with Random Felines for this guest post.

Going on a Road Trip with Your Cat from Sweet Purrfections
Since we haven't been on any road trips of any distance, we've reached out to one of our cat blogging friends, Jeanne, from Random Felines for tips and experiences when traveling on the road with cats.
Traveling by Plane
I have never been on an airplane but I may get to do that if we go to BlogPaws next year.
My friend summer is a travel veteran and does lots of flying. If you've never traveled by airplane, you can learn a lot from her experience.
You may never have to fly on a plane with a kitty — but I bet someday you may know someone who will! So here are a bunch of tips about flying with a cat, from an expert (me!).
I hope you enjoyed these posts and that they gave you lots of info to help make traveling with cats stress free and fun.
Christy Paws