Because I was rescued from a high-kill shelter, it is really important to me to paw it forward to help other homeless kitties. I am one grateful girl to have been rescued and I love to tell the humans who work tirelessly to save animals how much I appreciate them. National Animal Shelter and Rescue Appreciation Week is the purrfect time to do just that. Although I do not support the organization that started it, and I don't understand how people still can, I wanted to take the time to share with you a few ways you can help your local animal shelter or rescue group. They still deserve your support even if the national organization that started the event does not. When you donate locally, you can be more certain that your donation will actually go to the animals in need.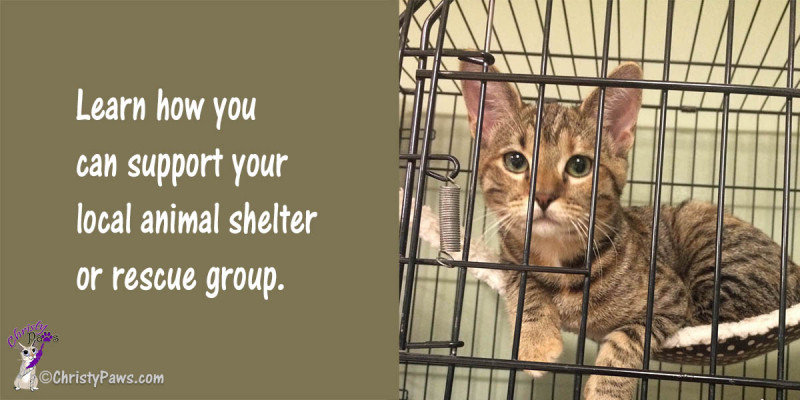 You probably know about most of these but maybe there's one or two that will get you thinking about what you can do.
If you don't already have an organization you support, you can find one near you by going to the Petfinder.com website and searching by zip code. You'd be surprised how little it takes to help them out and improve the lives of the animals in their care. And you'll feel great about helping.
Ways to Help Your Local Shelter or Rescue
Social Media
In this day and age, this is one of the best ways you can help. Follow your organization on their social media platforms and share their adoptable animals. Help promote their fundraising events.
Volunteer
Shelters need help with cleaning up after and caring for the animals as well as keeping the facility in good shape.
Become a Foster
Fostering dogs and cats in your home is a truly rewarding experience and helps the shelter by making room for additional animals.
Donate Your Skills
Do you have a special talent like photography or videography? Great photos or videos of shelter animals can help them get adopted. Are you experienced in fundraising, public relations, graphic design or finance? Rescue groups usually have a great need for volunteers in these areas because, let's face it, everyone wants to work with the animals.
Get Crafty
Use your DIY or sewing skills to make bedding and toys.
Donate When You Shop
Find out if your shelter or rescue is signed up with shopping services like Amazon.Smile and iGive. Select the organization as your charity and painlessly donate when you shop online. Some grocery stores donate when you shop using their card.
Donate Your Pets' Gently Used Items
Check with your shelter or rescue to see what items they need. Organizations often have a "wish list" that you might even find on their website.
Donate Household Items
Shelters and rescues are usually in need of items like blankets and towels as well as cleaning products. Check that wish list.
Donate Food and Litter
Can you imagine how much food and litter a busy organization might go through? This is usually the biggest part of their budget, other than medical. You can buy in bulk at wholesale stores. Check to see if they have any restrictions on food they accept.
Donate Vehicles and Other Property
Be sure your charity is registered with the service you choose to take your donated property.
Lighten the Load
Make sure your pets are microchipped and wear identification so you can be reunited with them quickly if they get out.
Spay and Neuter Your Pets
Spay and neuter your pets to prevent unwanted puppies and kittens. Spread the word about spay/neuter to your friends.
Donate Cash
Cash, of course, is probably the most helpful thing you can donate. Shelters and rescues can use the funds where ever they are needed to keep the organization running. If you do donate cash, see if your employer has a matching donations program. Even a small donation on your part can make double the impact. Consider setting up an ongoing, monthly donation.
Say Thank You
You can let shelter and rescue workers know how much you appreciate their dedication to animals with a letter, card or email. Trust me, most do not get positive communication.
These are just a few ways I thought of to help your local shelter or rescue group. What other ways can you think of? Remember, no one can do everything but everyone can do something.
Thoughts of a grateful kitty.
Christy Paws