Today is a big day around our house. Not only is it our country's birthday, it is the day I celebrate my birthday and Echo and Ocean celebrate their gotcha day. You can read here why we celebrate on the Fourth.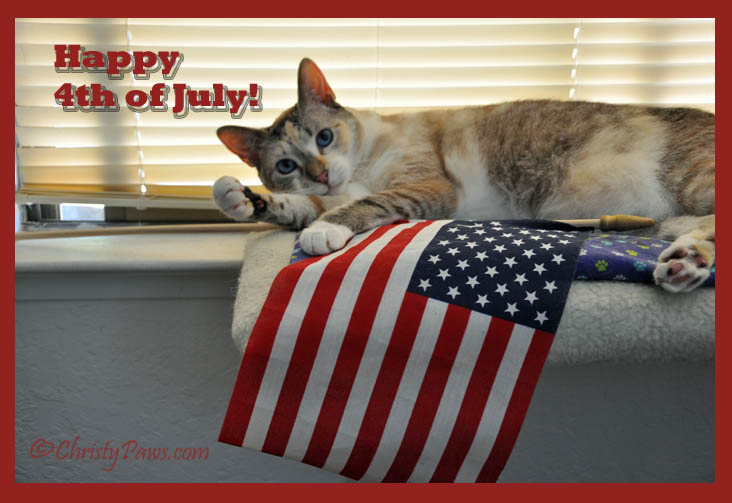 We already get great food with our homemade raw, but we usually get something special to eat and even extra treats. Mom gives us lots of extra hugs — sometimes I think she could keep some of those! We are very grateful to be such lucky kitties and we want to share with our furiends so please take a minute to enter my giveaway. Just use the Rafflecopter below.
BlogPaws Swag Giveaway
Mom hasn't even finished unpacking yet and hasn't sorted through all the goodies from BlogPaws, but let me assure you that we have TONS of stuff and the BlogPaws swag giveaway will be really SUPER. There is so much stuff, there might even be two winners!
Besides the BlogPaws swag bag, we got lots of samples from vendors. Some were especially generous, like Rocco & Roxie Supply Co., one of the sponsors of BlogPaws.
As if that weren't enough, when mom went to the Cat Writers' Association banquet, she got a swag bag there. Some of our blogging friends didn't have room to take all their items home since they were flying so you can thank Ms. Savvy Do of Savannah's Paw Tracks for some of the items.
Sorry my international furiends, the giveaway is open to US residents only due to the cost of shipping to other countries and mom said something about customs issues. If you live out of the US and have a US shelter you would like to donate to if you win, then by all means, enter away and good luck!
About the giveaway: No purchase necessary. Giveaway is open to US residents only, except where prohibited by law. Giveaway will run from July 4 through July 11, 2016 at 12:00 am EST. Winner(s) will be randomly selected and notified via email. Winner(s) will have 48 hours to claim their prize(s); failure to do so will result in forfeiture of the prize. Facebook and Twitter do not sponsor, administer, or endorse this promotion. Participants must read and agree to Rafflecopter's Privacy Policy before entering and participating in this promotion.

Since we got back from our trip to BlogPaws and Orange County, mom has been really busy — too busy to do much art, even for our big celebration, so she is recycling some artwork from last year. She did take the time to change the date at least!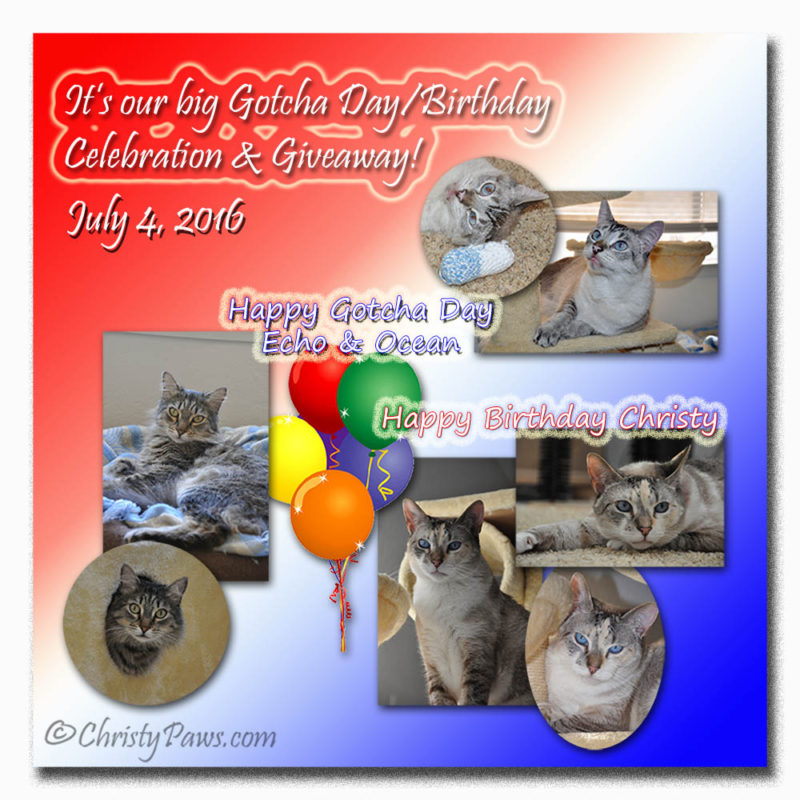 I hope you all have a happy and safe Fourth and that you get to spend it with family and friends. Good luck in the giveaway!
Happy Independence Day, USA
Christy Paws
Save
Save
Save
Save
Save
Save
Save