OMC! I bet you can't believe I'm posting but I just had to tell you some things.
Between spring being on the verge of happening and the BlogPaws Conference coming up next week, mom has gotten a bee in her bonnet. She says that even though we aren't going to BlogPaws this year, it is inspiring her. She has gotten out all my harnesses and made me start wearing them. I got really used to wearing one when I got to go to BlogPaws in 2016. I haven't worn one in a while so they feel a little strange. I was slinking a little at first but lots of treats helped me get over that pretty quickly!
I wonder when I'll get to go out in the yard on a leash. That dog that hates cats still lives next door and mom is a little concerned about that. He really freaked me out once! Click on the link and you can see a video of my first time out in the yard on my leash.
Mom says as soon as it stops raining long enough and dries out a little, I get to go out in my stroller. I bet it is dusty! It's been stored away in the spare bedroom since last summer. I really enjoyed cruising around the neighborhood in it!
I was a little sad when she put it away because I like sleeping in it but she said it was in the way and I have lots of beds. Maybe when she gets it out I'll sleep in it once in a while like in these photos from 2016 when I first got it.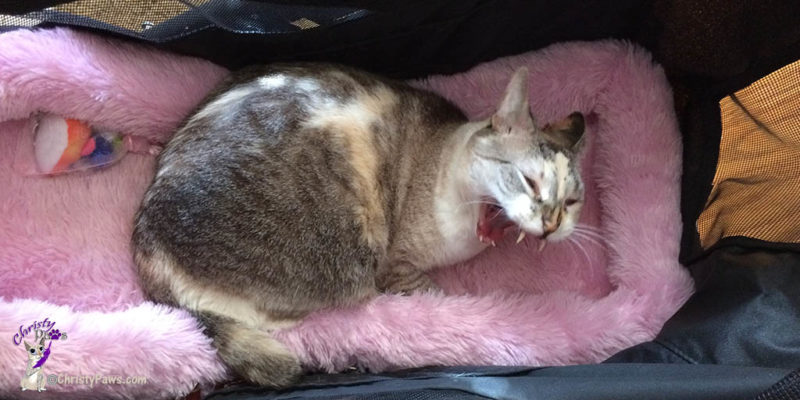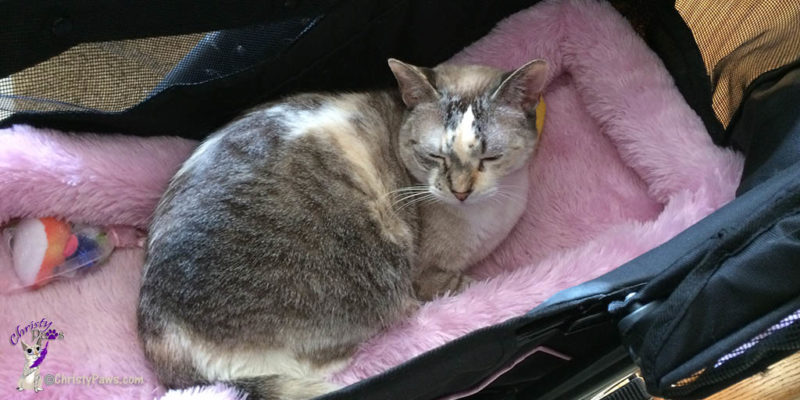 Speaking of beds, some might think we are a little spoiled. We have five heated beds for three kitties. Two are just for me so I can have a warm bed no matter where I am in the house. Living here is not like living in Southern California and it gets COLD here at night. It's even too cold for us most of the time during the day, except in the summer when it is sometimes too hot, so we really like these beds.
I'll be thinking of all my friends who are going to BlogPaws in Kansas City next week. Maybe I'll get to see you next year.
Christy Paws