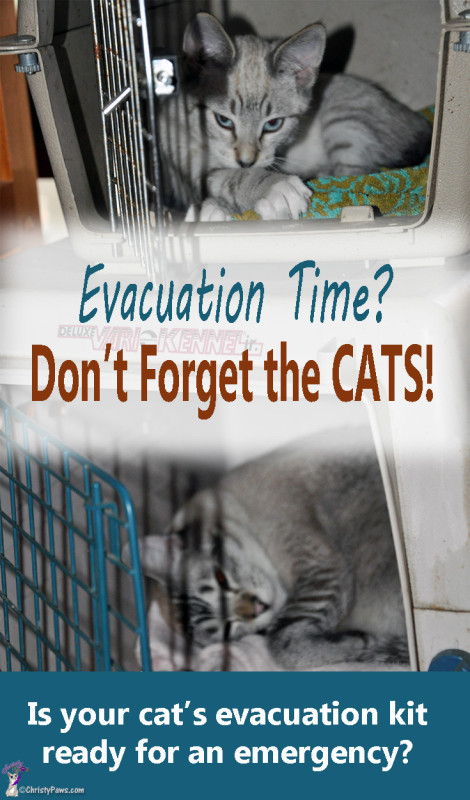 September was National Preparedness Month. We didn't write about it at the time — we got to live it. When the Butte Fire broke out on the afternoon of September 10th, mom knew we might have to evacuate. By the next morning, it was becoming a real probability so she started getting some things together like important papers and the computers and camera equipment. Late that morning she learned that we would definitely be evacuated and things got into full swing. We then had about two hours before we would have to leave.
Mom had our carriers ready and handy. She closed us in the family room and put the carriers in there with the doors open. Of course, we each claimed a carrier and went in to take a nap. Echo chose my new carrier that mom got me for BlogPaws (that I didn't make it to) so I let him stay in it. I picked the biggest hard carrier. Mom finished getting our stuff together while we slept.
There are some important things to do before an emergency happens, like microchipping and making arrangements for a place to stay. If things are ready ahead of time, it will be much less stressful on the humans as well as the kitties.

What to do before disaster strikes
Get your kitties used to wearing a collar with ID tags and get them microchipped.
Make sure your cats are used to being in their carriers.
Have a plan for where you will go with your cats. Human shelters often will not take pets.
Have printed copies of medical records or have them on a portable drive. Store them in watertight containers.
Have your evacuation kit packed and easily accessible.
Cat disaster preparedness checklist
Here's a handy checklist I made for you of things to include in your cat's evacuation kit.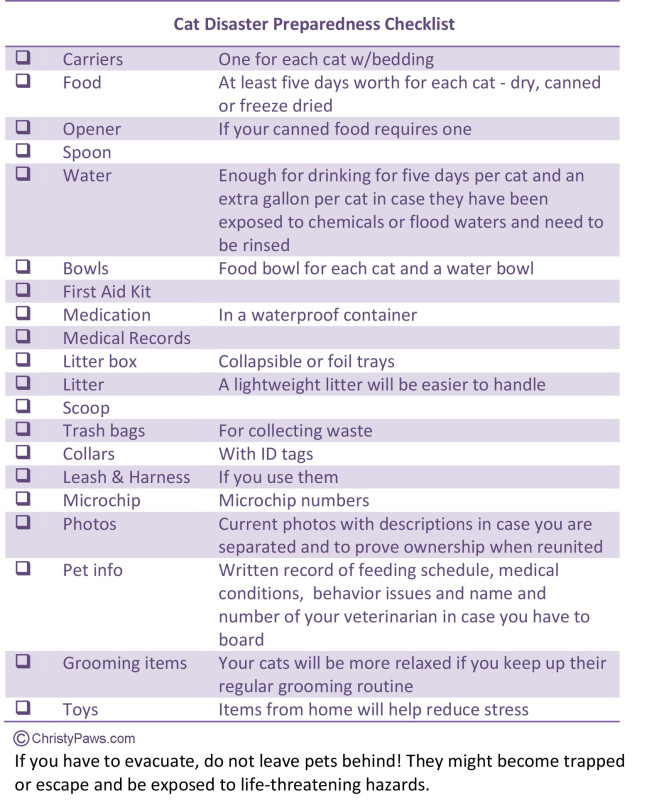 So, how did mom do? Was she prepared? Well, she didn't actually have an evacuation kit packed. The problem with that was we had no food!! She feeds us homemade raw food and we got the last meal she had prepared the morning we had to evacuate. She had planned to make us a new batch that day. This presented a bit of a problem that you can read about here. Mom is still working on finding a canned or freeze dried food that doesn't give me diarrhea. That would not be a fun thing to contend with in addition to being evacuated. Other than the food issue, she was pretty prepared.
You can learn more about disaster preparedness here.
Hoping you never have to use your evacuation kit!
Christy Paws