The KittyCatGo Adventure Challenge for the month of October is half over and we are way behind on our goal. Well, that is we are way behind on mom's goal of us completing at least 20 items on the challenge. She does say, however, that it is not about how many items we complete but how much more comfortable we become as adventure cats.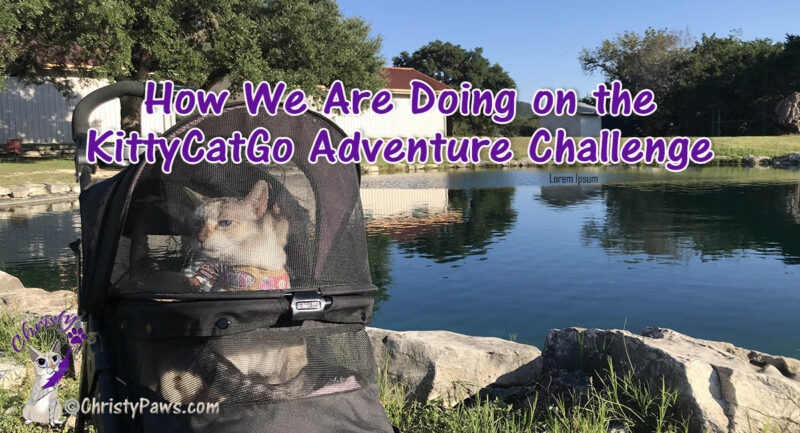 The adventure challenge is divided into four levels. Some things in the higher levels are easy for us while some in the lower levels are harder or even impossible. For instance, one item in the lower level is to show our dental routine. That's impossible for us since we have no teeth!
We don't have a food puzzle or pumpkin treats so mom wants to get them for us. Since we haven't done much adventuring in the past, we don't have a pet first aid kit, which we need. How hard do you think it would be to find a pet store in a fairly civilized area like Fredericksburg? So far, mom hasn't found anything more than a Walmart. That probably also means that a Halloween costume is out of the question but she's going to keep looking. We have a couple more weeks.
Now that we are going to be stationary for a while, we should be able to accomplish quite a few things on the challenge. We have probably done several on the list for which we have not submitted verification, so we'll just be documenting those the next time we do them. Like riding in the car. Mom keeps forgetting to take a picture of me in my carrier in the car even though I've ridden almost 300 miles since October 4th. Just because I was complaining most of the time doesn't mean it shouldn't count!
Here's what we've submitted so far: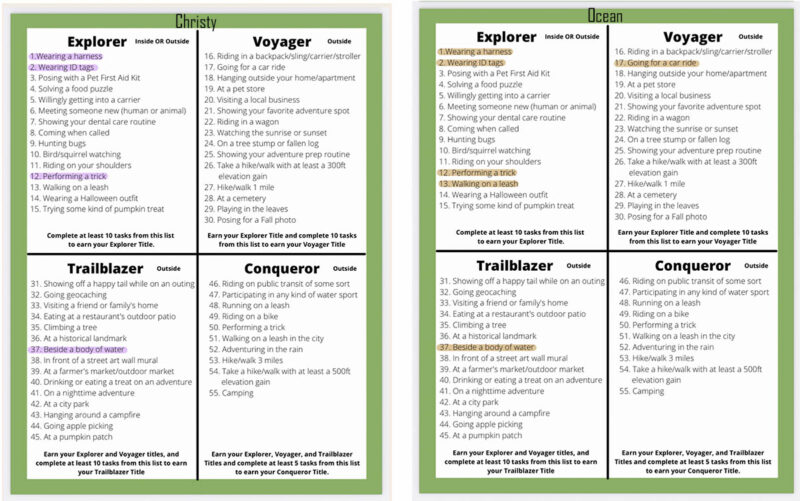 Did you see the video of us doing our tricks?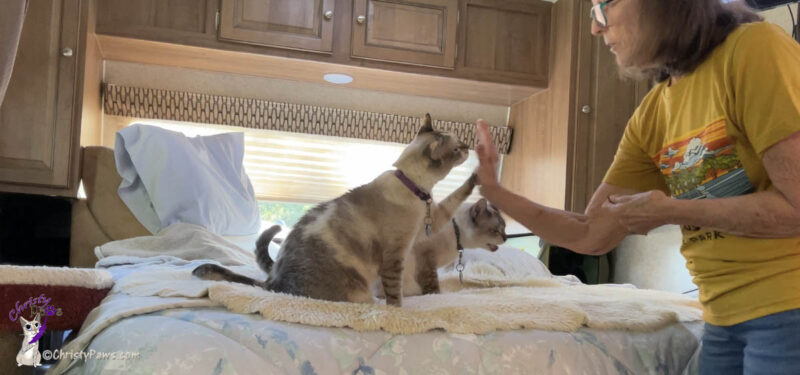 I just wanted to share with you how we are doing on the adventure challenge so far. I'll be sure to update you when the challenge is over. We post some of our accomplishments on Instagram so be sure to follow me at Christy Paws Chat and Ocean at Savvy Pet Care.
View this post on Instagram
If you are participating in the challenge, I'd love to hear your thoughts about it in the comments.
Kitty Kisses,
Christy Paws