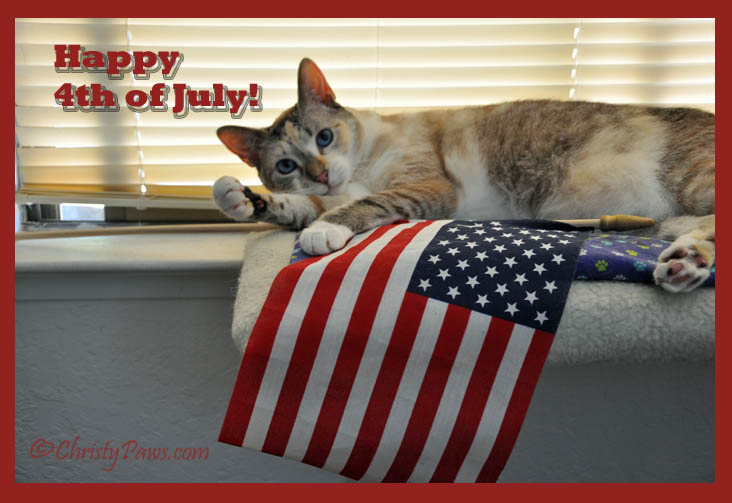 The big day is here! Our big Gotcha Day/Birthday Celebration & Giveaway. I'm not sure which day is bigger, this one or our one-year blogoversary which is the end of next month. Look for a celebration then too!
While you are here, enjoy the fireworks! It's a safe place to watch them.
But back to today. As you may have read on the blog, and I have found this is very common with my furiends since so many of us are adopted (YAY!), we don't really know any of our birthdays. Echo and Ocean came as fosters at around the same time near the 4th of July and I was most likely born early in July so mom picked this day for us to celebrate.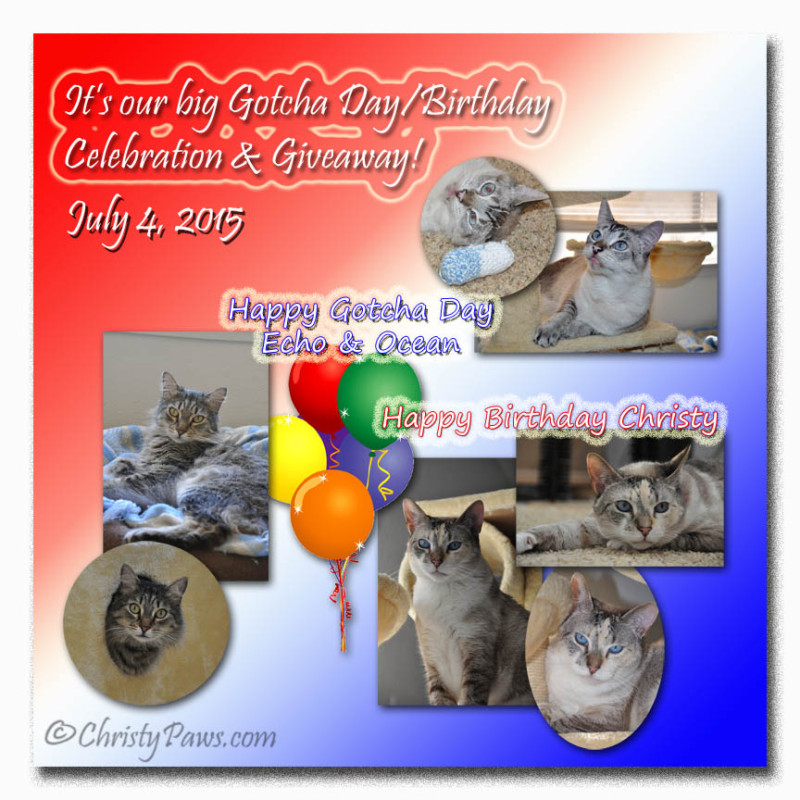 We know you are busy, probably doing your own celebrating today if you live in the US, and we sure are happy you took some time out of your day to visit and celebrate with us. We won't keep you long! We didn't plan a big party. Instead, we are having a giveaway.
Don't you feel great when you can give things away? When mom saw Summer's post about how Nip and Bones was having a rough time, we decided ordering from them for our giveaway would be a win-win. We ordered several items including the mystery box, which has five toys in it. Also, mom is going to add a couple of things from BlogPaws. I'm sure you will be delighted if you are the winner! I know a lot of you ordered from Nip and Bones after the post so I hope that won't keep you from entering. A kitty can never have too many toys, right? Besides, if you win and don't need them, you can always donate them to a rescue or shelter. Leave a blog comment to enter and open options to earn additional entries. The giveaway ends Sunday, 7/12, at 12:00am EST.
This is a kitty prize package for US and Canada residents only. I promise I will have something that includes my woofie pals next time. Yes, I love my woofie pals on the other side of the computer screen. I'm still working on liking them in person!
a Rafflecopter giveaway

Happy Independence Day, USA!
Christy Paws 
We are entering several blog hops today to help spread the word about the giveaway and to wish everyone a safe and happy Fourth of July.
Caturday Art with Athena and Marie
Pet Parade with Rascal and Rocco
Fourth of July Blog Links with The Cat Blogosphere