You may have read a few weeks ago that I finally got to join Cat Scouts. When the scouts started traveling with their flats, I just couldn't stand it any more. I begged mom to let me join and she gave in! I really wanted to go visit some of my friends.
My friend, Dezi of DezizWorld, was just going to host scout visitors because her mom didn't have the green papers for a flat and to send Dezi traveling. While mom was making my flat, she had an idea and sent an email to Dezi's mom. The end result? Dezi and I, that is Izzy and Tristy, will be traveling the world together! OMC! What adventures we are going to have. We are calling the saga of our travels Lionesses on the Prowl!
When our flats were ready, mom was in such a hurry to get them on their way, she didn't take them horseback riding before they left. I'm sure they'll get a great ride when they return from their first few visits. Our flats headed off to The Canadian Cats but Shoko didn't know Dezi, aka Izzy, was coming! I think she was quite surprised.
Now, on to the serious business of this post. I just learned about the Tuesday's Tails Blog Hop which starts on Tuesday each week so I am a day late, but beginning next week, we will feature our adoptable kitty on Tuesday rather than Friday.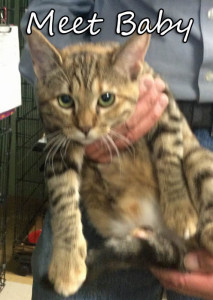 Available for Adoption from A-Pal Humane Society
Adopt Baby
This adorable 6-month-old girl was turned in to the shelter as a stray when she was four months old. She is a sweet, playful beauty with bright green eyes. She can be seen at the Feed Barn in Jackson, CA. This girl has been spayed and has had all of her shots, including rabies!
Please share to help Baby find her forever home.
Christy Paws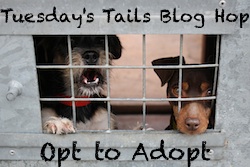 More blog hops. Click on the badges to see the Wordless Wednesday entries or join in the fun.