Ocean and I worked really hard on our selfies this week and I think we did a pretty good job. Ocean's is in better focus than mine but at least we are both looking at the camera– well, mostly.
Echo was sleeping in the back bedroom and did not want to be disturbed!
Since we missed Caturday Art yesterday, I decided to turn one of my selfies in to a quickie artsy selfie.
What do you think? Does it make my nose look big?
We haven't posted much or been around to visit all week. Mom just can't seem to get her old brain back in gear after being out of town for a few days so I haven't been pushing her too much. She has seemed a little tired. Also, she's been working on our very special post for tomorrow. Tomorrow is my one year blogoversary! Can you believe it? Me neither. I hope you'll stop by and join in the festivities. It will be a comment-a-thon for A-Pal Humane Society.
Hope you had an easy Sunday!
Christy Paws
This is a blog hop hosted by The Cat on My Head. Click on the link or badge to see more.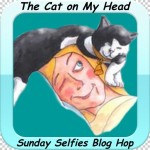 We are also joining, very late, the Caturday Art Blog Hop hosted by Athena and Marie. Click on the badge to see more great art or to join in the hop.