Mom loves to tell us the story of how Echo came into her life. It all began with another kitty named Topper.
Mom found Topper when he was a tiny baby. She was at the stable where her horses lived. She and a friend were walking down the stall isle when they heard pitiful little cries. They looked around and finally found him hiding among some trash cans. Mom took him home and he sat right in her lap the whole way. Mom said that was pretty amazing for a little feral kitty. He made himself at home immediately.
When Topper was about two years old, he escaped from the house. The patio screen door was open a few inches in the morning when mom got up. Either someone had left it open or he had opened it! Mom looked for him for weeks and was so sad. Her search for him included daily checks of the shelter website. One day, while checking their site, she saw a link to MeoowzResQ. She decided that fostering would be the perfect way to find another kitty if Topper was not coming home. That was the summer of 2009.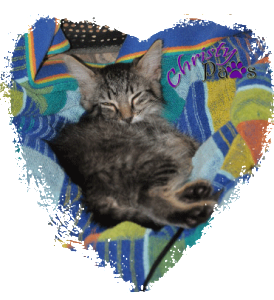 When her application was accepted, Dani from MeoowzResQ contacted her. She said they had a little tabby kitty that needed some socialization and was she up for the challenge. Mom said sure. She had a lot of time available to devote to his socialization so why not.
When Echo arrived and mom let him out of his carrier, he ran to hide so fast mom couldn't catch him. She let him be for a while but he was terrified. He wouldn't come out even to eat. Mom wondered how she would ever socialize him if he wouldn't come out and be with her. She let him stay under the couch for a couple of days while she mulled over the options.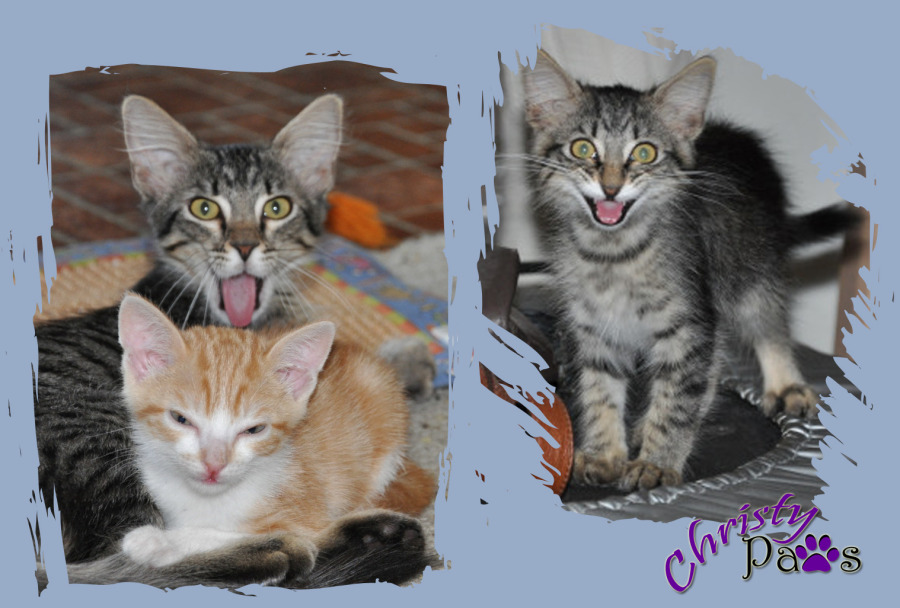 She thought about putting a harness on him so he couldn't get away but even kitten harnesses were too big for him. Then she remembered that she had an iguana harness. Yes, iguana harness. It is totally adjustable so it worked perfectly. Well, that is, it fit perfectly. That terrified him too and he did the gator death roll in it, jumping, twisting, hissing and spitting. (Nylablue and I have been discussing this phenomenon.) He tried so hard to get away but mom stuck with it. Eventually, he gave up fighting it.
Mom kept him with her day and night on that harness. She fed him next to her and took him to the potty box. He started liking for her to touch him and scratch his head. He even started sleeping with her. He was becoming a bit of a lap kitty! When she took the harness off after a week or so, he didn't run away.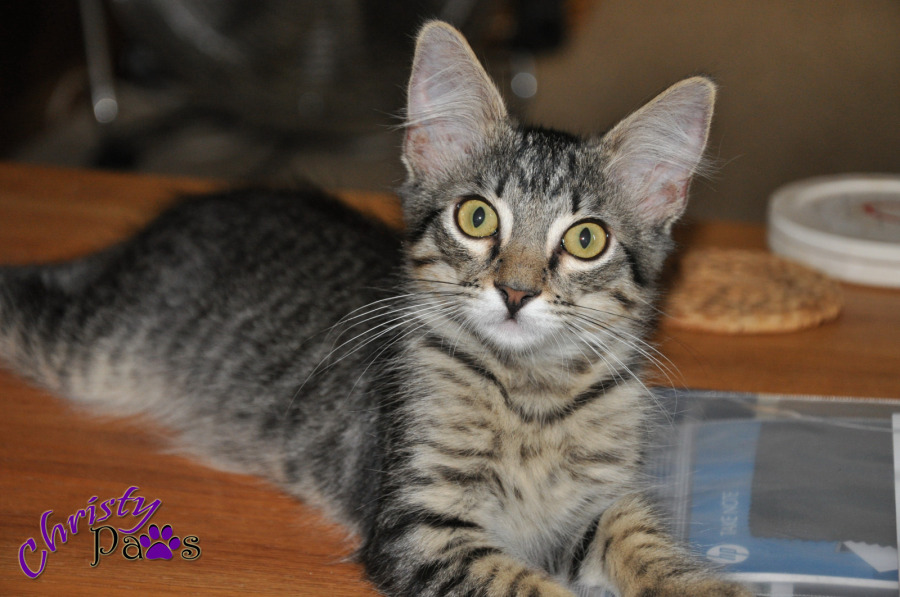 About that time, the rescue called to see if mom could take on another kitty. This one was a Siamese mix! Mom is very partial to Siamese mix  – including me, you know – so she was eager to bring him home. Maybe this would be her new kitty?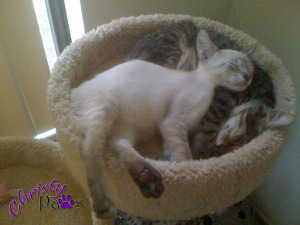 Ocean was an adorable little ball of fluff and Echo took to him right away. He was probably really glad to have another kitty in the house to play with. Although they became inseparable, they both loved mom and frequently slept together with or on her.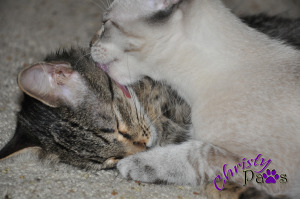 Mom fell in love with Ocean, her little Siamese boy, and decided to adopt him. When it came time to give Echo up for adoption, mom just couldn't do it. She had fallen in love with him too. He had come to trust her and she couldn't bear the thought of him having to go through that fear again. So Echo and Ocean, mom's first two fosters, became her first two foster failures.