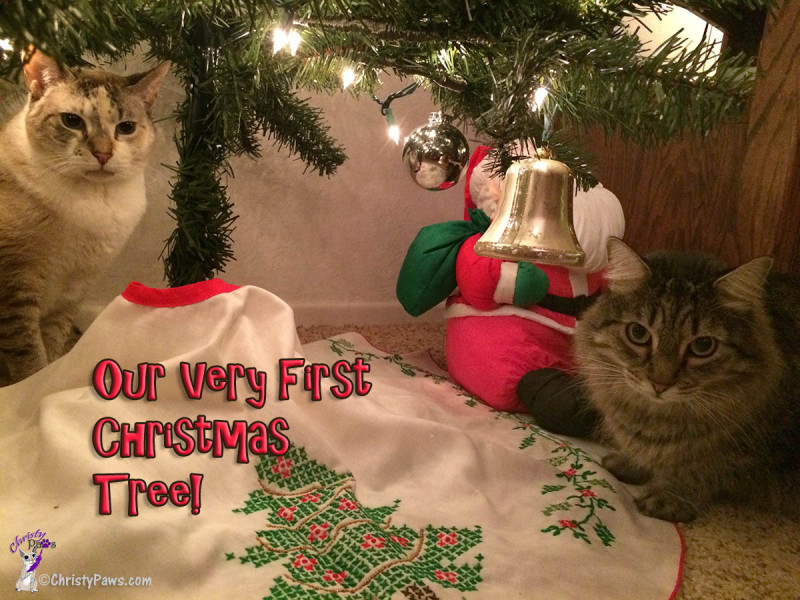 Yes, we have a tree. Echo, Ocean and I have been alive and living with mom for seven Christmases and this is our very first Christmas tree. There was a good reason though, I guess, that we didn't have one all those years. For the first five Christmases, mom was fostering kittens, lots of kittens, and knew a tree was not a good idea with all of them around.
In the beginning, we were those foster kittens. As you may know, Echo and Ocean were mom's first two foster kitties. I came along a few weeks later. (There were several other kittens between Ocean and me.) The three of us were all a little over six months old that first Christmas.
Last year, we had just moved here and mom was still recuperating from her health issues. She didn't feel much like decorating for Christmas and she had given away almost all of her decorations.
For some reason, she seems to be more in the holiday spirit this year and started thinking about a tree a few weeks ago. She wondered what kind of tree she should get (real or artificial) and how she would decorate it. She knew she had lights and her friend, Kelly, said she had plenty of decorations to loan us.
Videos like this one of Cole and Marmalade continued to make her wonder if a tree was a good idea. She knows many kitties do fine with a tree but she wondered about Ocean who loves to be up high.
One day she was shopping at her second favorite discount store and saw a simple, small artificial tree and decided that was the one. When she lived in Nevada, she always got a living tree to plant afterwards but we sure don't need anymore evergreen trees around here. She didn't want to kill a tree, so that left an artificial tree. It has a few other advantages too. No watering necessary and no water to spill if we do turn it over.
Getting the tree up actually took a couple of days. Putting it together seemed easy enough so instead of helping mom with that, we gave the box a thorough inspection.
Ocean just had to taste it. That's when he discovered that real trees don't come out of a box.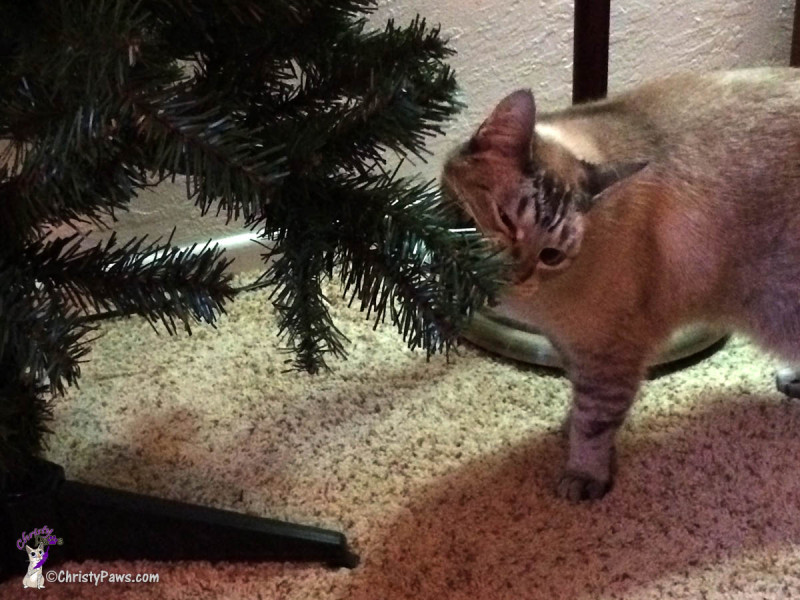 Once the tree was up and the lights mom had were on, she discovered that she needed more. The next day, after more lights were acquired, mom settled in with a refreshing beverage to put on the decorations.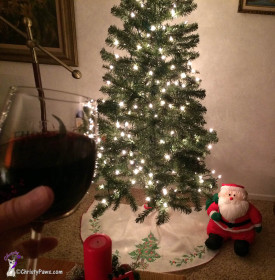 So far, we hadn't bothered the tree except to occasionally sit under it. Would the ornaments be too tempting? We all watched patiently while mom hung the ornaments. Once she was done, we checked it out and gave our stamp of approval. The ornaments were interesting but not very play-worthy and we decided they should stay on the tree.
And, as for climbing, well, the tree is a little flimsy and we are all a little, shall we say, robust. I haven't been into climbing in years and even Ocean decided he prefers the big cat tree.
Actually, we haven't given the Christmas tree much thought since the first couple of days so mom's concerns were totally unfounded. So, how about you, my friends and furiends. Do you have a tree? What are your thoughts on the topic?
Hope you all are having a wonderful holiday season.
Christy Paws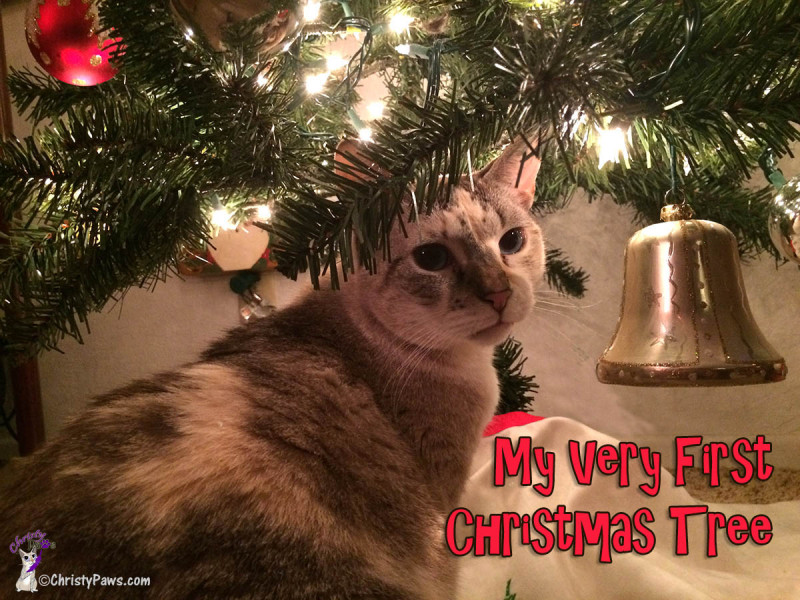 This is a blog hop. Click on the badges to see more entries or join in the fun.