When we lived in southern California, Echo, Ocean and I were all pretty mellow. We are adults, after all. We almost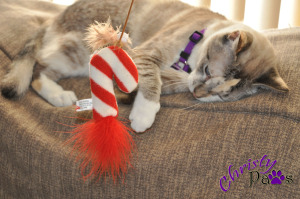 never played on our own and mom had to beg us to play with her. On occasion, we would take pity on her and give in, chasing around a silly string or feather. Most of the time we would just sit and watch while mom waved and drug and flailed toys about. Even the red dot was only rarely enticing to Ocean. Mom would usually give up after a few minutes saying, "You guys are so boring!"
Humph! Boring? We didn't tell her she was boring when she was working on one of her other blogs or projects on the computer, totally ignoring us. We didn't tell her she was boring when she was running the sucky monster, doing laundry, or cooking. And we especially didn't tell her she was boring when she spent so much time taking care of sick foster kitties. Of course we didn't. We acted like the adult kitties we are and slept. So do you think it is right for her to call us boring when we don't want to chase things around like a bunch of silly kittens? No, I didn't think so.
She vowed that we would all get more exercise when we moved up here. But, somehow, things are different here. We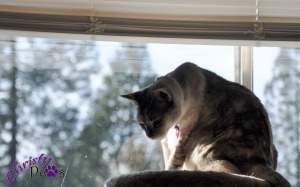 are not so boring. Echo was the only one of us who ever got the zoomies once in a while before, but here, it is almost a daily occurrence. He and Ocean chase each other around and try to chase me, but they usually end up ganging up on me so I don't often participate. I head for a high place where I can watch them.
We still don't play with mom much because we don't play well together — Ocean always tries to take over any toy mom is playing with — but we all take our turns playing with bugsy and each of us has a favorite toy that we play with by ourselves. But who would have thought, that of the three of us, Echo would turn out to be the most playful? Certainly not me or mom! If you read his story, you know he has always been the shy, quiet one — except for those occasional zoomies. Now, he does sneak attacks on bugsy, zoomies by himself, chases Ocean, and when the nip toys comes out, oh boy, look out!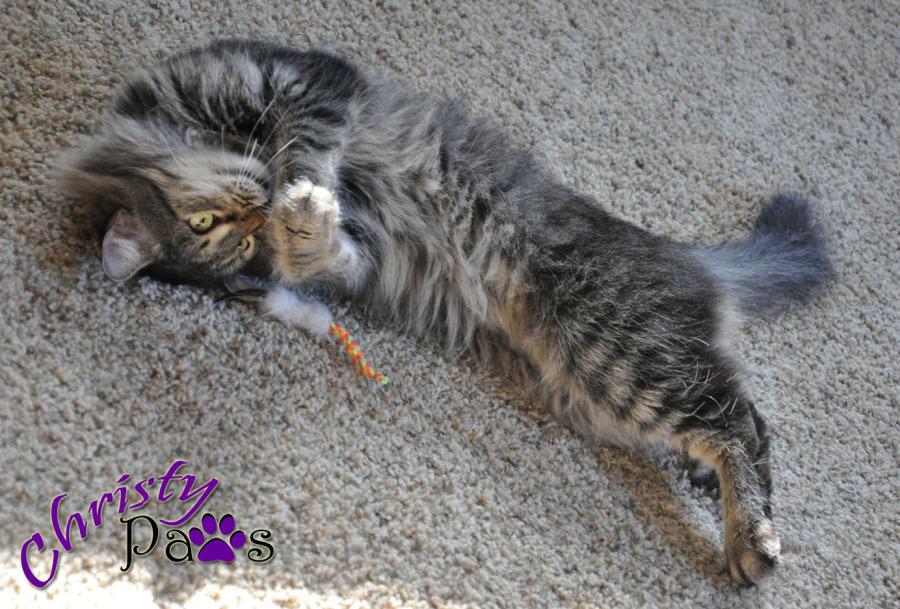 Have a fun and crazy day!
Christy Paws