Hope all of you who celebrate it had a most wonderful Christmas. Mine was pretty quiet. Mom gave us a yummy breakfast with some of our special treats then she left to go to brunch. When she came home, we watched a movie then she left again to go to another party. That left Echo, Ocean and me to do a lot of napping. Echo had a few bouts of playing with bugsy, but mostly we slept.
Mom had her Caturday Art project all ready to go yesterday then decided this morning to do something New Year's themed. Once it was done, she decided to save it for New Year's Day. Geez, she sure has a hard time making up her mind some times.
This week's project is several layers: the original photo, a purple layer with the chalk and charcoal filter applied, a gray layer with the stamp filter applied, and finally the frame.  The purple and gray layers are varying  degrees of opacity to let just a little bit of the original color to show through.
Mom loves the way that changing just one little thing in Photoshop can change the look of a picture. The bottom right one is what she created for today then she just changed the blending mode on the purple layer to get the other effects. The blending mode on the bottom right is normal, on the bottom left it is saturation, on the top left hard light and top right is exclusion.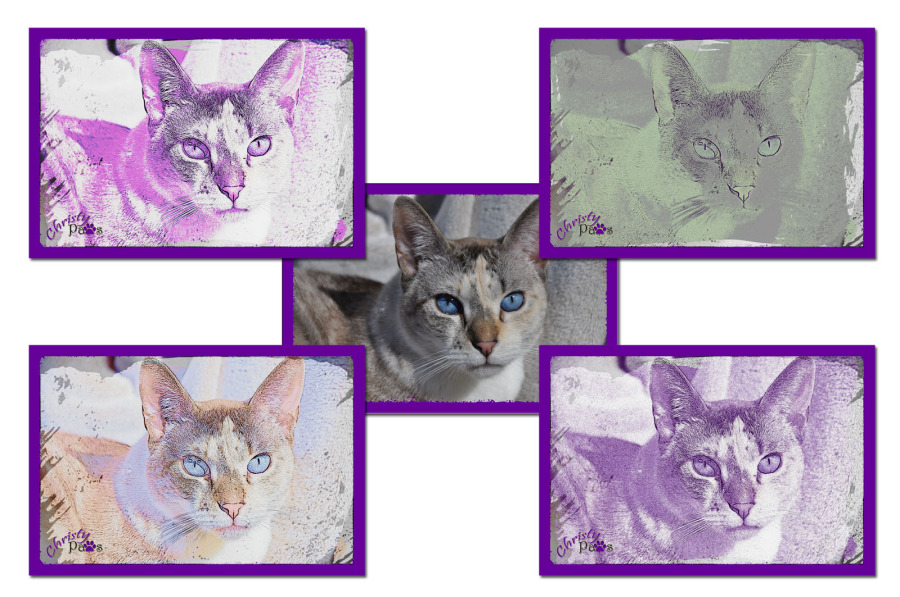 Have a wonderful Caturday!
Christy Paws
This is a blog hop hosted by Athena and Marie. Click on the badge to see more great art.