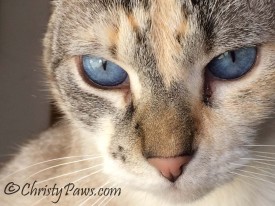 Whew! We finished the Blogging from A to Z Challenge yesterday. We had a few glitches, like when mom went out of town for a few days, but mostly, we did it! Will we do it again next year? I'm not sure. It was very tedious challenging writing six days a week (seven if we did Sunday Selfies with The Cat on My Head) and finding topics that applied to me. I guess that's why it is called a challenge, but it may be too much for this cat and her old mom. Mom says maybe we need to learn to think outside the box more! I'm not sure why — all kitties know that the best place is INSIDE the box.
Some days, we could make current events fit that day's letter. Some days,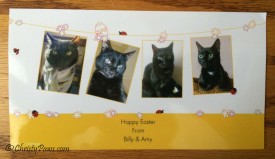 we really had to reach to come up with something. What I didn't like is that it kept me from posting about some current events because we couldn't figure out a way to make it apply, like the lovely Easter card I got from my friend Billy, the Time Travel Cat. There's that box again!
Our main reason for doing the challenge was just to see if we could do it, but another reason was to get new readers. I don't think that happened. We had a couple of new visitors who commented but our readership did not go up noticeably. And I can't blame anyone or anything for that. There were, in the end, 1516 participants, and we didn't visit many of them either. Mom said something about not enough time. I think mom needs some time management courses. What's that mom? You've been to many of them? So, what's the deal then?
Now, I don't want you to get the idea that we didn't have fun with this. Here are some of our favorite posts from the A to Z Challenge:
I hope you enjoyed some of these posts. We sure appreciate you taking the time to read them and comment. We will now be back to our regular routine, or so we hope. We usually post Friday through Monday and on Wednesday. Mom is going to try to get back to writing on her other blogs on Tuesday and Thursday. I'll let you know if that happens!
Have a great day filled with things from anipals to zoomies!
Christy Paws