Ever since I can remember, I have been the self-declared Queen of the House. I came to the house as a foster kitty, but I soon won over my human mom and she adopted me — her third foster failure. There were hundreds of kitties after me, but no matter how many kitties came and went, I was in charge. I gladly assumed the responsibility. If it ever became too much for me, I took a break, observing and instructing from a high vantage point.
Mostly, we fostered kittens. Those brothers of mine, Echo and Ocean, were too busy playing with the kittens to teach them anything constructive. Kittens can be very trying sometimes, doing the same things over and over again. It seems like they'll never get it. They need lots of repetition and redirection to learn. I helped them learn how to gingerly step over things when they were up on someplace they weren't supposed to be. I taught them to use the scratching posts rather than the couch (oh, the poor couch). I encouraged them to use the litter boxes rather than the carpet under the couch! And mealtimes with the really young ones — OMC!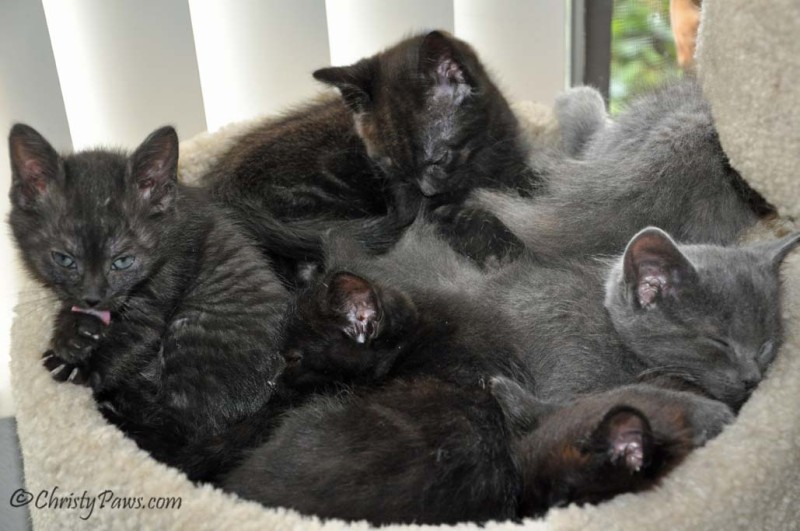 But all the effort was worth it when they would "graduate" and head off to an adoption event. There was always rejoicing when mom came home with empty carriers.
If you have ever thought of volunteering to be a foster with a rescue, mom and I can highly recommend it. There are so many organization that would be very grateful to have your help. It is such a great feeling knowing you helped save lives and, in my case, that I paid it forward.
Have a royally splendid day!
Christy Paws