Yes, indeed, X is a tough letter. There are quite a few X words but most are of the scientific variety. We pulled out the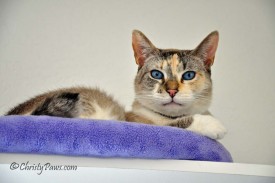 dictionary to try to come up with something creative. About all we found was xerox, Xanax and x-ray that we could use. Even though x-ray isn't very creative, at least I do have a story to go with it. You may have already heard the story, but you probably haven't seen the pictures.
I was only a few weeks old when I was rescued from a shelter, and certain euthanasia, with a broken leg and tail. I was taken to a veterinary hospital where they took x-rays to see exactly what the damage was. In the x-rays, you can clearly see my broken leg and tail.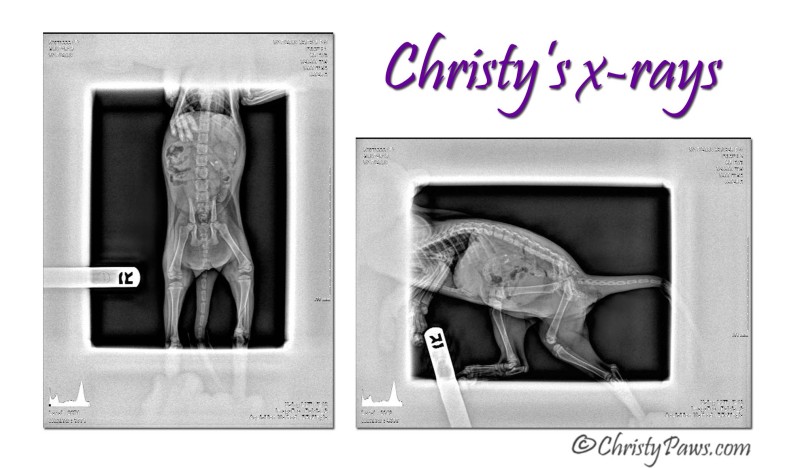 My tail was amputated at the break and is now a cute little half-tail. My leg was set and put in a cast. After a few days at the hospital, I went home with my foster mom. As you probably know by now, she was a pushover and adopted me after a pretty short time with her.
My leg was in a cast for several weeks but I didn't let that big old thing keep from doing anything. It was clunky and quite a nuisance but I was a youngster and didn't know any better. The vet said the cast would protect my leg and I didn't need any special care because of it so, after my initial incarceration in the kitten room, I ran and jumped and dragged that thing around everywhere.
Admittedly, though, it was quite a relief to get that cast off. My leg was pretty stiff for a while but after a few weeks of exercising it, I barely limped. Today, there is no sign that I was ever injured — except for my little tail.
Wishing you a safe and healthy day!
Christy Paws