This is the third day of the Blogging from A-Z Challenge and today's post is chock full of Cs! Now you might think I would take the easy way out and say that C is for cat, which of course it is, but that's not happening here. First up though, I have to point out that I am the BIG C — Christy Paws. I won't take time to talk about me here because I have lots more to tell you. You can read about me on my About page and in my Let Me Introduce Myself post if you are interested in learning more about me.
What I really want to tell you about is a contest (giveaway) I won on Lola the Rescued Cat's blog. Have you met Lola? If not, you should go check her out. She has her very own book, Lola, Diary of a Rescued Cat, which tells her rags to riches story. Can you believe someone would throw a kitty in a dumpster?
I found out I won last week and calmly waited until my prize arrived so mom could photograph it and we could write about it. My prize was a collar and corsage from Sweet Pickles' Designs. All of Pickle's products are handcrafted in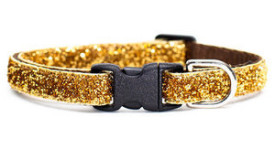 Portland, OR. You can read a great review on Lola's website. Lola even has her very own signature Sweet Pickle's collar called, you guessed it, The Lola.
The Lola is the collar I won! It is a sparkly gold and is very pretty. I love the way it catches the sun. Now, you may remember that purple is my color, but gold is very regal too. A white corsage came with the collar. Mom really liked the way it was packaged. The corsage came in a tiny little box, so small that no cat could fit in it!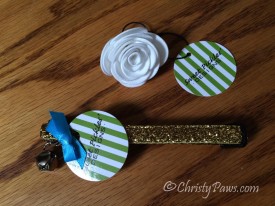 I have one more C I want to tell you about. Last week mom went shopping for supplies for the garden and brought me a beautiful flowering plant called a columbine. Can you guess why she considers it mine?
Have a charmed day!
Christy Paws