It looks like this move thing is really happening. The house is a disaster! There are boxes everywhere and furniture is getting moved around. It is so hard to imagine that this will actually take place in just 2 1/2 weeks! How can everything possibly be done in that amount of time? I'm supervising, of course, but it seems mom is just not moving fast enough!
The cat room is completely torn apart. The cat room was a wonderful place. It is where mom kept the foster kitties when they first came to stay with us. There were some large wire crates in there for kitties that needed to have movement restricted after surgery or for any other reason that they needed to be confined. There were great cat trees and a comfortable chair. We got to go in when there were no kitties in it or the kitties were allowed in the whole house. Well, that is no more. The room has been gutted and it is now a storage room for the boxes that will be loaded on our moving truck.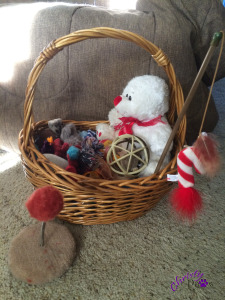 One of the good things about the cat room destruction is that mom found a whole box of toys she forgot she had. We have a whole basket of toys but you can never have enough, right? Hey, wait. You're putting the lid back on the box. What do you mean, we'll get some of this unexpected treasure after me move? I can't imagine how many toys mom is going to find when she moves more of the furniture. I don't know about your house, but here, toys hardly ever get thrown away, new ones get added but the overall number never seems to change much.
I was having a great time playing with this ball she just found in the cat room until the camera came out. Then I had to play coy!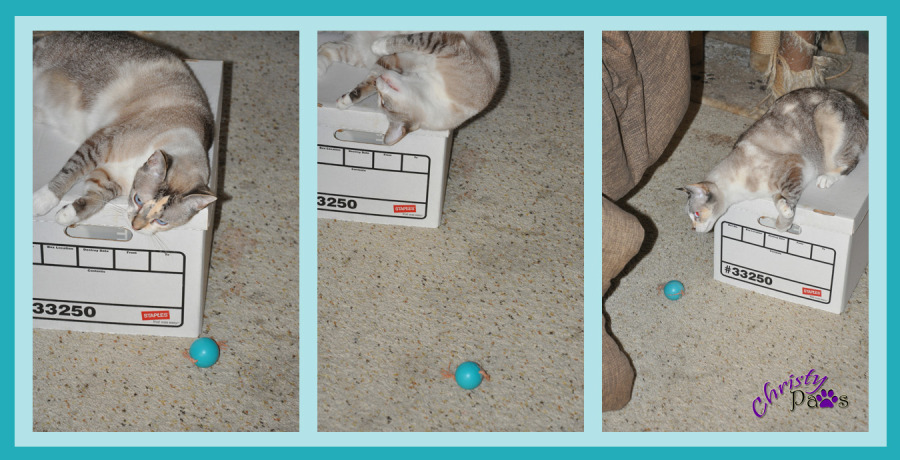 Well, friends, I've told mom she has to get back to work. I'll let her take a few breaks but we have to keep a move on. We're on a deadline!
Christy Paws